February 6, 2014
1:1 Precedent Models: Analysis Through Construction
Written by Alden MacKey and Andy Wolfang, M Arch Candidates (2015)
As a case study, our team's project was Peter Zumthor's Steilneset Memorial honoring the victims of the Vardø witch trails, built in Norway in 2011.  We were specifically interested in this project on account of its simple wood structure, which emphasized the fact that buildings are composed of simple members arranged together to enclose space.  What also intrigued us was the interplay between the compression structure of the frame and the tensile enclosure of the textile cocoon within.  Through the design process we became aware that while the tensile enclosure clearly required the exterior frame for vertical and horizontal support, the exterior frame also relied on the textile membrane for lateral bracing along the building's longitudinal axis.
This realization arose through the construction process of our 1:2 scale sectional model of the building (the actual building itself is roughly 30' high).  While one can clearly identify the triangulation in the building's structural frames across its transverse section, there is no bracing or knees in the joints between the longitudinal members and the structural bays of framing.   The instability along the building's longitudinal axis became evident in the construction process.  However, this structural deficiency is resolved by the tensile action of the textile membrane, which acts like "X" bracing as loads are transferred into the longitudinal members of the frame at the connection points.
The process of realizing this project relied heavily on a study model and sketches we made early on in the process, as detail drawings for the project were unavailable in the time frame we were working under.   While the structural frame is relatively simple in its arrangement of parts and connections, studies in our 1/8"=1' model forced us to confront the delicate complexity in the textile membrane which we represented with paper at that point.  After going through various iterations, a simple rectangular form in which the two short edges are concave best achieved the enclosure's scalloped shape and was used as the form for the fabric.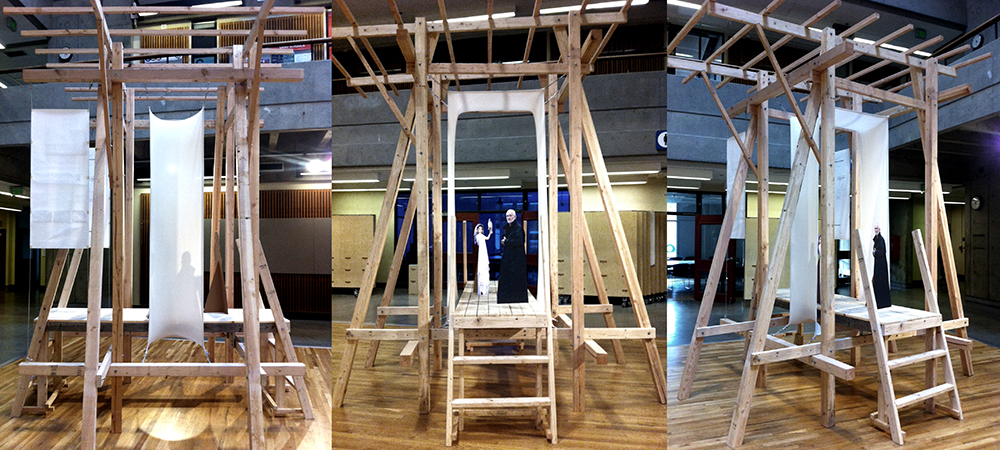 While it was not the focus of our tectonic study, we included the wood plank floor and a ladder (built at 1:1 scale) so the interior space of the textile enclosure could be inhabited.  1:2 scale figures of Zumthor and Stevie Nicks (as an ode to witches everywhere) help provide some sense of the building's actual scale.  Overall the experience of everyone in the class was overwhelmingly positive and we hope you enjoy the installations.  See you at happy hour!