September 10, 2015
2015 Seattle Design Festival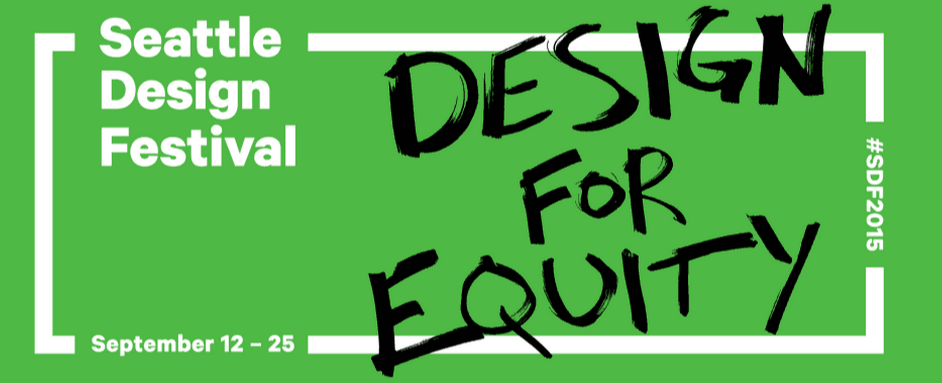 The University of Washington Department of Architecture is pleased to be a part of the 2015 Seattle Design Festival, an annual celebration of all the ways design makes life better. Community members, city officials, citizen-experts, and designers all come together at workshops, performances, tours, exhibitions, talks, films, gatherings and more to exchange ideas.
Seattle Design Festival 2015: Design for Equity explores how design can contribute to a more equitable society. From buildings that everyone can access and move through, to apps that enable civic participation by people in every location and language, to cities where we can all afford to live – design is a vehicle of innovation. Design for Equity invites us to create a future in which everyone in our society – from every background, ability, race, age, gender, location or economic status – can access the same opportunities and outcomes, both now and in the future.  This year's theme is apt for our department as numerous UW Architecture students, faculty and alumni are involved in projects that showcase their dedication to architecture and community.
Highlighted projects include:
Exhibition: Recording the City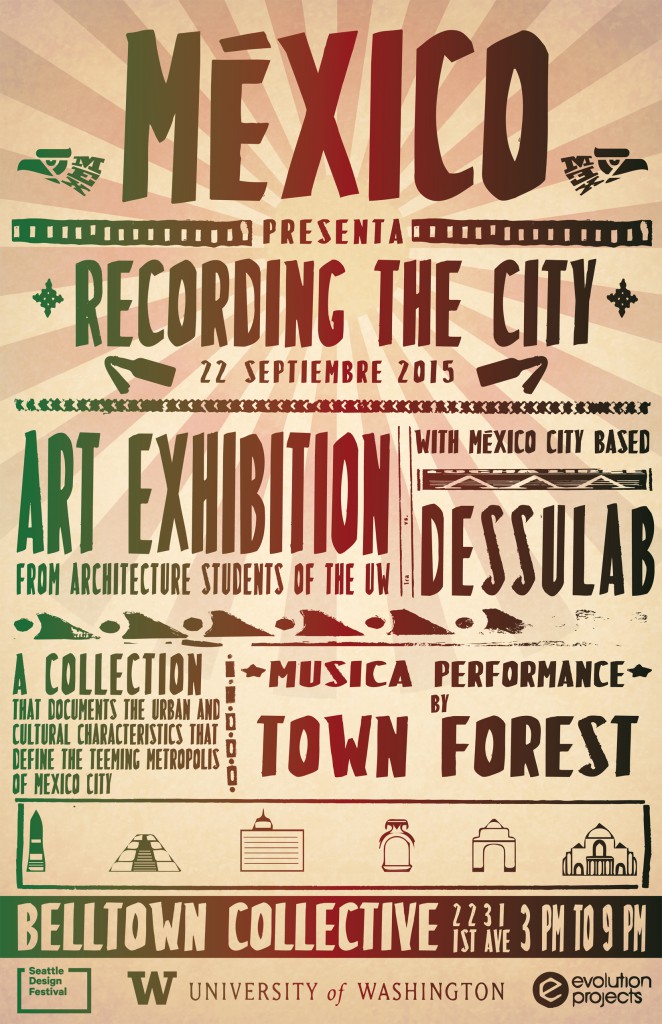 Tuesday 9/22/15, 3:00 PM – 8:00 PM
The Belltown Collective, 2231 1st Ave, Seattle WA
Access to the City is everyone's right. Unfortunately in reality this is not the case for everyone, be it Mexico City, or Seattle. The Seattle Design Festival exhibition entitled Recording the City presents documented conditions in Mexico City through the eyes of eight University of Washington architecture students. Through video recordings, sound recordings, written stories, drawings, and paintings, the exhibition intends to broaden people's perception of the City and how people inhabit and interact with it by probing viewers to ask questions about their own City. How do we see the City? How do we read it? How do we live with it, move through it, adapt to it? And how does the city adapt to our own behaviors? By asking these questions of ourselves, and through seeing rather than looking, we generate a greater respect and understanding of the diverse individuals and groups with whom we share the City.
Contact: Rob Hutchison
Workshop: Encamped in Ballard: Let's House the Urban Poor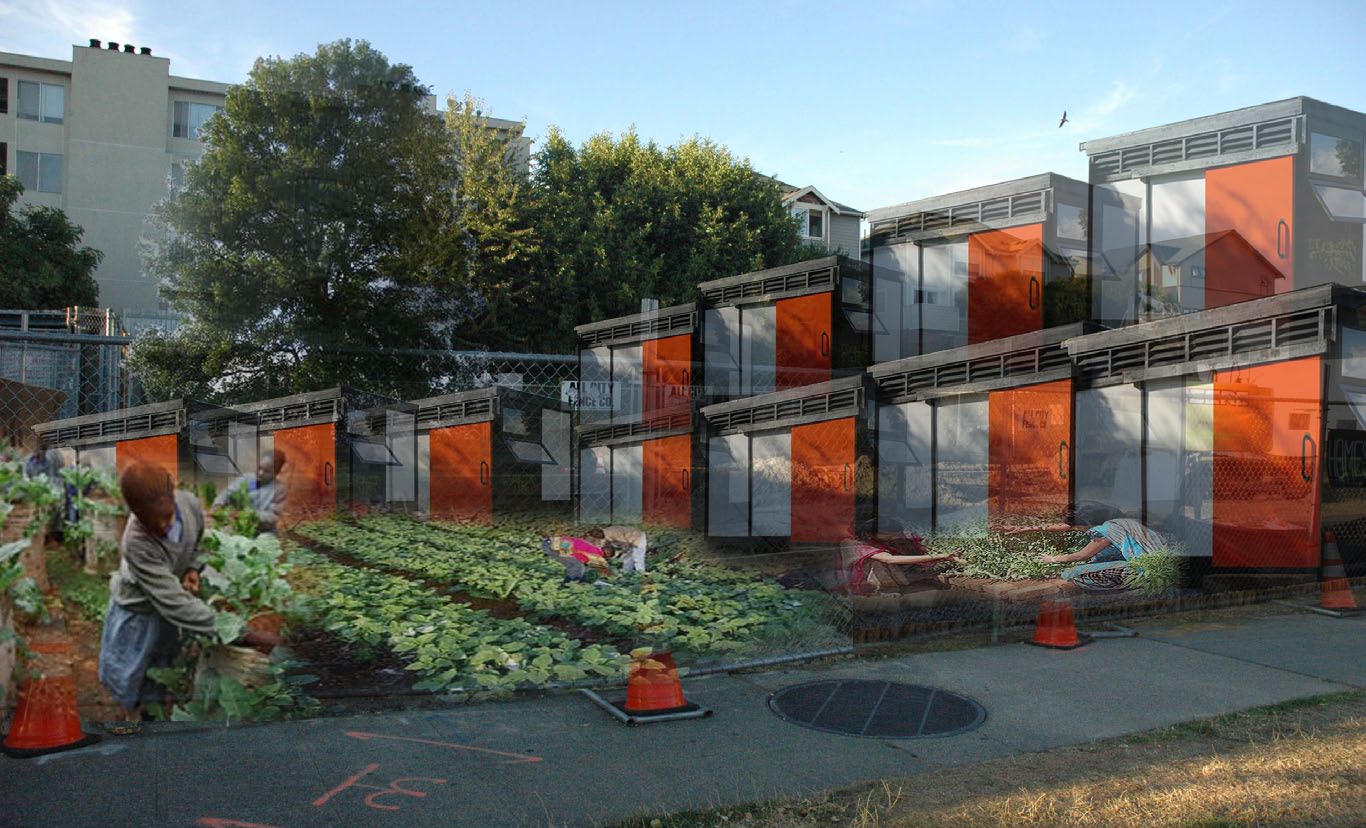 Tuesday 9/22/15, 6:30 PM – 9:30 PM
UW Gould Hall Court, 3950 University Way NE, Seattle, WA 98105
This workshop will address the potential design of the Ballard encampment and its presence in the neighborhood. Who should live there? How should the land be divided? What should be the rights/responsibilities of all involved? How should the encampment be designed to add to the beauty of the neighborhood? By the end of the evening you will have created a colorful model of your visionary ideas. Come with an open mind and be prepared to be creative! All are welcome; refreshments will be provided.
Contact: Sharon Sutton
Tour the Bullitt Center – 5:00 – 6:00 PM ($5.00)
The Equity Drafting Table – 6:00 – 8:00 PM (FREE)
Wednesday, 9/23/15, 5:00 PM – 8:00 PM
Bullitt Center Discovery Commons Classroom, 1501 East Madison St., Suite 200, Seattle, WA 98122
Come and tour the greenest office building in the world, The Bullitt Center! Participants will explore an inspiring living laboratory that shows a new way of designing the built environment. The in-depth on-site tour of the Bullitt Center includes exposure to various green building strategies, including: energy systems, water systems, materials, architectural design as well as strategies that address health, equity, site and beauty.
After your tour, join ILFI, Feet First and Sustainable Seattle for The Equity Drafting Table. This event is a free, interactive space to explore social justice and its role in green building. We're asking: What will it take to make Seattle inclusive and robust for all?
Come and go as you please–stay for a brew or the entire event, but please RSVP as space is limited.
Reserve your space by choosing a ticket option: http://www.brownpapertickets.com/event/1984878
Tickets cost $5 per person. If the cost is limiting your ability to attend the tour, please email dcommons@uw.edu to apply for a waiver of the fee.