January 24, 2017
ACSA Architectural Education Award
Congratulations to Assistant Prof. Elizabeth Golden and M. Arch '07 alumnus Ray Villanueva!   They were awarded a 2016-2017 ACSA Architectural Education Award for their Philippines Bamboo Workshop Design-Build project: Food Trip Market Stall.  Details and more images of the project may be found here.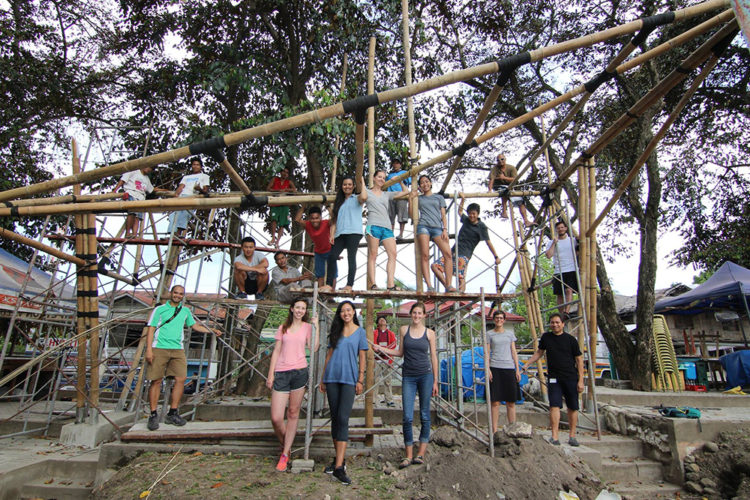 M. Arch candidate Buddy Burkhalter was one of the UW students who took part in the workshop.  After completion of the project in summer 2015,  he contributed this blog post:
—
There is a saying in the mountains of the Philippines – one is born with bamboo (built out of for a baby's crib) and dies with bamboo (material for a coffin). This metaphor speaks highly to the intrinsic tie that bamboo has to the history of Filipino culture and architecture. A new study abroad program, Architecture Philippines: Building with Bamboo, led by co-directors Assistant Professor Elizabeth Golden and Ray Villanueva, took myself and nine other architecture students to the Philippines to focus on the potential of bamboo as a building material and a cultural symbol. For a month from mid-June to mid-July, we studied bamboo through visits to example works in urban Manila and rural locations closer to our home base in Dumaguete, hands-on training from local bamboo craftsmen, collaboration with local students in a community design charrette, and construction of the chosen bamboo structure.
After three days conducting research through site visits in Manila, we traveled to the smaller city of Dumaguete where we spent our remaining three and a half weeks working alongside local architecture students and learning how to build with bamboo. The design/build portion of the program consisted of a collaboration with eight Filipino students from a local university, Estudio Damgo at Foundation University, to design and build a bamboo structure as part of a market stall for vendors selling prepared food in nearby Valenica, Negros Oriental, Philippines. A collective of local bamboo craftsmen, Bambusa Collabo, conducted bamboo workshops to teach us about preparation, weaving, and joinery methods and provided leadership and additional guidance during construction. The program was a unique opportunity to work with designers from another country in their home. Through research, observation, and interaction with the Filipino culture and people, we as outside designers gained knowledge and insight of how to be better architects in a foreign culture. As outsiders, we also had a great responsibility to be sensitive to the residents with whom we were collaborating and designing. Remembering that we were visitors allowed for a greater cultural exchange of ideas. Through the process of working and collaborating with people from a different culture than our own and on a project in a foreign environment, the market stall design charrette and build taught our group how to be conscious of responding to the client, culture, environment, and local materials. The program also showed that bamboo has the properties to become a viable building material in the contemporary built environment, especially in the Philippines and other geographic locations where the material is native. In our short time there, we were able to complete a majority of the construction on one of five market stalls. The Bambusa Collabo team is expected to complete the entire Valencia market structure by the end of the year.
Bamboo is native, grows rapidly, is cheap in cost, and durable for construction and weather. However, due to outside imperialism, bamboo was replaced with other materials, such as stone, concrete, and steel that have no regard for the specific traditions and environmental concerns of building in the Philippines. Furthermore, a stigma has been extended to the material that unfairly associates bamboo with lower socioeconomic classes and rural life. Recent concerns of economic, environmental, and social sustainability have led to the reevaluation of bamboo as a contemporary building material as knowledge, practices, and proponents of bamboo have grown in presence. The success of bamboo as a viable building material in the contemporary built environment requires three elements – education about the material's properties, training in construction techniques, and a change in attitude and reputation in comparison with more modern considered materials. These three facets came together on the Architecture Philippines program (as referenced on social media by #uwarchpbw and #yolobolobamboo).
—