November 24, 2015
ARCH 101: INTRODUCTIONS
Contributed by Associate Professor Ann Marie Borys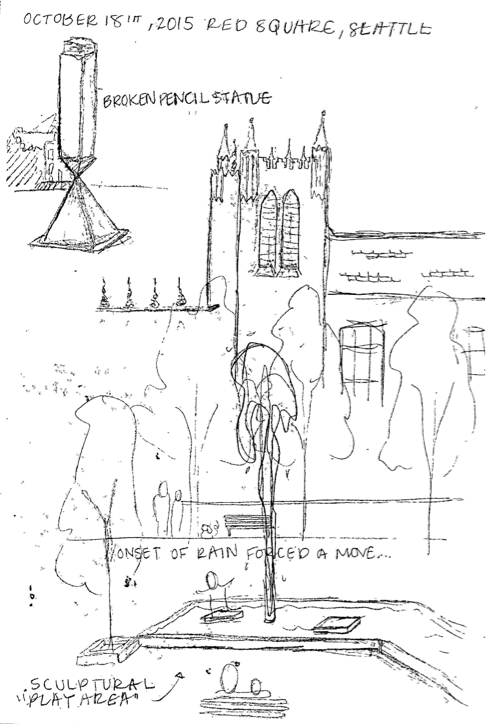 This fall I have led a new course (officially titled "Introduction to Architectural Studies") that is designed to welcome our newly admitted freshman and sophomore students and to introduce them to the academic program, the discipline, and the department. Undergraduate advisor Kim Sawada suggested offering this course, which is especially useful for freshmen just arriving on campus, They will not begin architecturally-focused pre-requisites for a full year, but they are anxious to begin their college experience as "architecture students."  The scope and intentions for the course evolved from discussions in the curriculum committee last spring. I have been joined by Kailin Gregga, Rob Pena, and Kimo Griggs (as well as Kim) in introducing broad concepts of creativity, sustainability, fabrication, and history/theory. Some of the students were able to tour the construction site of the UWPD, thanks to Jeff Huebler of the UW Capital Projects Office, and the architectural offices of Johnston Architects, thanks to Mary Johnston.
I would like to introduce a few of these great new architecture students to you by sharing some of their observations.
—
About a favorite building:
Zak:
Whether its day or night, the building stands out in the city. The US Bancorp Tower reminds me of home and how a simple building can make a city so vibrant. When I drive into Portland during a sunset, seeing the pink glow from the building against the sunset background makes me feel joyful.
Addison:
There are so many memories associated with that one cabin that stepping inside it is much like entering an old photo album. There are small details that I have come to appreciate over the years as I have grown there. I love the way it is perched on the hillside so you can see it from the lake. I love the way the lights bring the building to life at night during cold winters when everything outside is blanketed with snow. It is a very serene place, and the building itself, thanks to years of time there, has become a second home.
Ingrid:
It was hard choosing a building that gave me the strongest aesthetic response because many have. Wren's St. Paul's Cathedral made me nearly faint due to it's grandeur and the Empire State building made me speechless due to its extreme height and wonderful art deco design.
Bali:
The Central Library ( a branch of the Seattle Public Libraries) is a building that definitely had a big impact on me. It was the building that inspired me to pursue architecture!
About sustainable design and the Bullitt Center:
Morocco:
It was also pretty interesting how the Bullitt Center was designed so well for efficiency that it is beating their projected values. I am excited to see how technological advancement (like more efficient solar panels or other similar things) will influence the ease or difficulty of designing green buildings in the future.
Gray:
My whole purpose for wanting to become an architect is to create not only what is aesthetically pleasing but to create what is self sufficient, something that can stand on it's own and produce what it needs to run properly. The Living Building Challenge engages all the aspects of green architecture that I want to explore.
—
About the book A Place of My Own by Michael Pollan:
Ireland:
…this kind of process may not work for all design aspects, but (in my opinion) it's a great opportunity to pull old ideas and then reinvigorate those same ideas into them something better. It stimulates a conversation between the past and what will be done in the future, which I thought was truly inspirational.
Ethan:
I liked how the book as a whole focused on the experience that one needs to feel in the building, which could change depending on the location, surrounding nature, and materials as well as the design of the building itself.
Amber:
The most inspiring part of A Place of My Own to me was the fact that Michael Pollan stuck with his dream even through all the complicated and difficult times.  For example, picking a site, the windows, and the foundation.  However, I was disappointed that there really isn't an end to the story.  I felt like Pollan should have talked about how the cabin turned out after he had been in it for a little while.
Sophia:
Since he was building it himself, he was able to really capture the emotional connection he had to the building. For him the house did not just represent a place of solace. It represented his dream, his labor, a safe place, and protection; and everything in the house was placed with a purpose.
About different descriptions and interpretations of Unity Temple:
Amelia:
I think that it's interesting how people can react so differently to the same spaces.  There are so many different ways to describe buildings and the spaces they create.  I think that the important part is that the author writes in a way that they incorporate what they notice and also consider what other people would notice.
About fabrication and making:
Amber:
After lecture, I was able to walk around an determine the way in which different objects, big to small, were crafted.  My personal favorite is molding, because I fine it extremely interesting that you must design the negative space (the mold) to create the positive space (the object).
—
As you can see, these students are bright, insightful, and articulate. I have enjoyed the chance to get to know them, and share some of their first steps on an exciting journey.