November 14, 2016
Architecture in Rome 2016
A little over a month of Architecture in Rome has elapsed now, and although there are always new places to explore in the Eternal City, I'm beginning to feel less like a tourist and more like a resident. I have rabbit-trails to untidy corners and unfrequented streets that tourists only pass through on the way to their next destination. My days are in part populated by everyday tasks, thoughts of what to cook for dinner, and the studio projects beginning to pile up on my desk. Studying abroad is not so much a trip, as it is a change in lifestyle.
Living as a Roman has many upsides to life in Seattle. Food here is plentiful and, in the right places, cheap. Italians may be known for copious amounts of pizza and pasta, but I have been pleasantly surprised by a number of alternatives. From world famous Trapizzini in Testaccio filled with cow tongue in green salsa or zighini, to the crunchy porchetta sandwiches around the corner, there is always tasty food nearby.
The grocery stores carry smaller goods than what I am used to, and I'm not always exactly sure what I'm buying, but I can successfully order all the meat and cheese I could ever desire, which is a lot of meat and cheese. Most of all Rome's walkable streets and neighborhoods mean I have avoided rush-hour traffic for the past 5 weeks and am still able to go to all the places I need to be.
I am continually in awe of the great architecture this city has to offer. Other students are spending their quarter in more modern cities with straight-line buildings and minimalist structures. Rome on the other hand is ancient, and the city doesn't let visitors or residents forget that. Everywhere there are glimpses of ruins, some more complete than others. What I find most interesting about the built environment here is its ability to coexist in close proximity to these museum pieces across the city. Ruins run through office boardrooms and public parks. Pieces of the Aqueducts quietly remain among neighborhoods and arch over roadways. Though the buildings are ancient, the world that exists in and around them is modern and ever changing. Despite their age, they are still relevant works to admire, study and gleam inspiration from.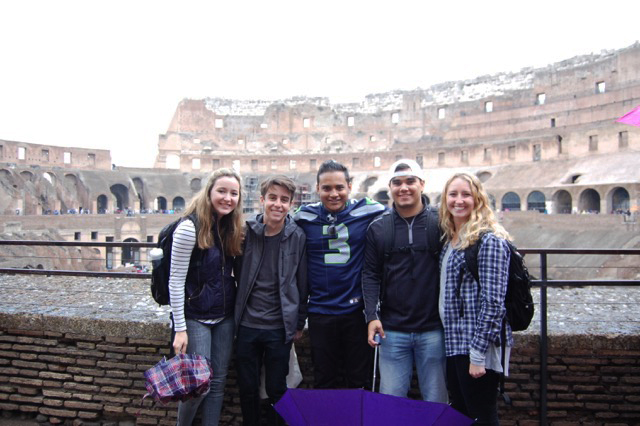 Outside Rome, things are quite a bit more relaxed. The countryside is active; viewed by train one can see vineyards and orchards, with a few pastures in between. There are still ancient remains dotting the landscape, but people exist around them in the same way they do in Rome.
One of our first day trips out of the city was to Ostia Antica where we explored the ancient ruins of an old port city. It was fascinating to witness the humble remains of a working-class town in contrast to the grandeur of Rome. We spent most of the day wandering and sketching in the sun, but as the afternoon came the skies began to darken and broke out in rain. A few of us packed accordingly, I wasn't one of them.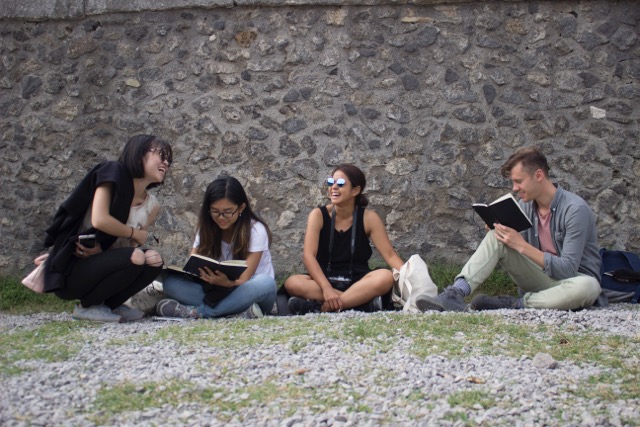 We spent the following Saturday in Tarquinia and Cerveteri to paint Etruscan necropolis and visit one of the largest collections of Etruscan artifacts in the world. Tarquinia is a relatively quiet town along the coast, and the Etruscan museum is a main attraction. There are many tombs and relics that showcase the happy-go-lucky lifestyle of the Etruscans. I was drawn to their easygoing nature and peaceful attitude toward life and death. Later in the afternoon we made our way to Cerveteri to explore the tumuli there. Most of our group agreed that this was the most we have ever felt like Indiana Jones. Trina recommended only venturing into tombs with updated stairways and lighting, but the dark and eerie smaller tombs were too enticing to not peek inside. It's easy to imagine seeing one of these in ancient times and requesting one for yourself, they're rather comfortable inside – except for the mosquitos.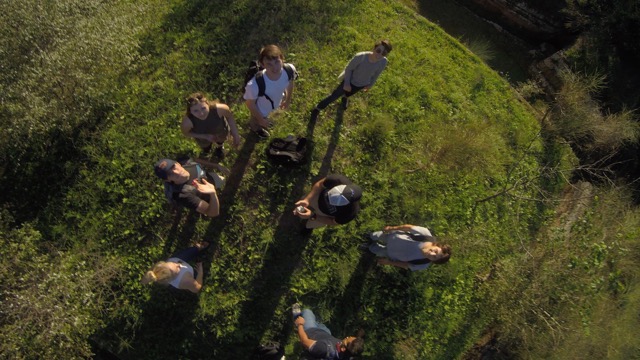 With each field trip to see unobstructed ruins, I gain more of a connection to the mindset of ancient Romans. Coming back to my apartment in Rome feels different every time and I appreciate the city in new ways. I can only imagine the feeling people on the outside of ancient Rome felt when entering through the Piazza del Popolo for the first time and witnessing the magnificence of this city compared to their tame hometowns.
The speed at which this past month has gone by is telling as to how fast this next one will go. With time running out, there is no excuse for not eating gelato every night or spending a majority of my funds on food, right? Here's to another month in the ancient city!