December 4, 2018
Bench-Mark
Collaborative Student-Built Bench Project 
Contributed by Jim Nicholls

My dream bench's handles are like mood rings and the rest of the bench is filled with encouraging words that would make anyone smile.
-Eva Gugsa, Grade 11
In the spring of 2018 Yesler Community Center, Frye At Museum, Olson Kundig Architects and UW Department of Architecture collaborated with ten high school students to create a bench and an exhibition at the Frye Art Museum. With a shared ambition to teach design and provide an introduction to architecture, a bench for a public space was designed and constructed during 16 after-school sessions. It was displayed at the Art Museum and will be installed at the Community Center after the exhibit ends December 9.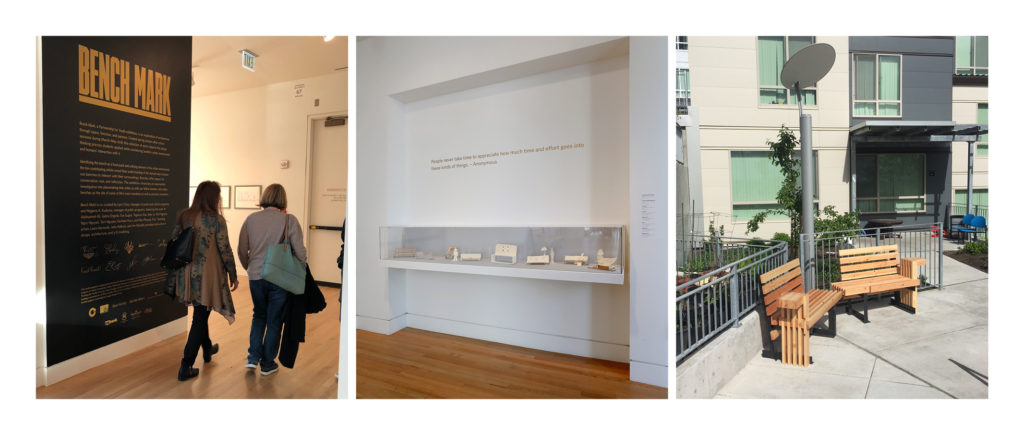 1. Display board at the exhibit 2. Student models 3. Bench installed in the site
The course syllabus the students signed up for asked:
What is design? What is architecture? During this course, students will learn how to be a designer by applying 'design thinking' strategies. Different from art or engineering, design follows a process of identifying a problem, brainstorming open-ended solutions, testing, implementing, and iterating. Students will use the design, construction and public installation of a bench as a tool to show the entire design process. Students will explore architecture as a means of seeing, framing, and claiming urban life, by using the bench as the site of public interaction in the city. Students will be taught by leading professional architects and university academics. Field trips to potential sites, architecture schools, architecture offices, and construction fabricators, complement hands-on activities.
Bench Mark was co-curated by Lyn Chou, manager of youth and school programs at the Frye and Negerra A. Kudumu, manager of public programs. The students were Abdisemed Ali, Gebre Engeda, Eva Gugsa, Tegarius Kea, John Le, Kiet Nguyen, Ngoc Nguten, Tam Nuguyen, Nurham Nuru, and Nhu-Phuong Tran. Laura Bartunek and John Hallock participated from Olson Kundig, Asfaha Lemlem from Yesler and Jim Nicholls from UW Architecture. Gauge Design Group fabricated the bench following the student's design.