December 18, 2014
Congratulations, Graduates!
After a (midnight) Friday thesis deadline, we gathered Saturday at Cultivate in Elm Hall to celebrate our graduating Master of Architecture students with a slide show and awards.  A list of this quarter's theses is provided at the end of this post.
Graduates, congratulations from all of us here at the UW Department of Architecture, and thank you for your outstanding work!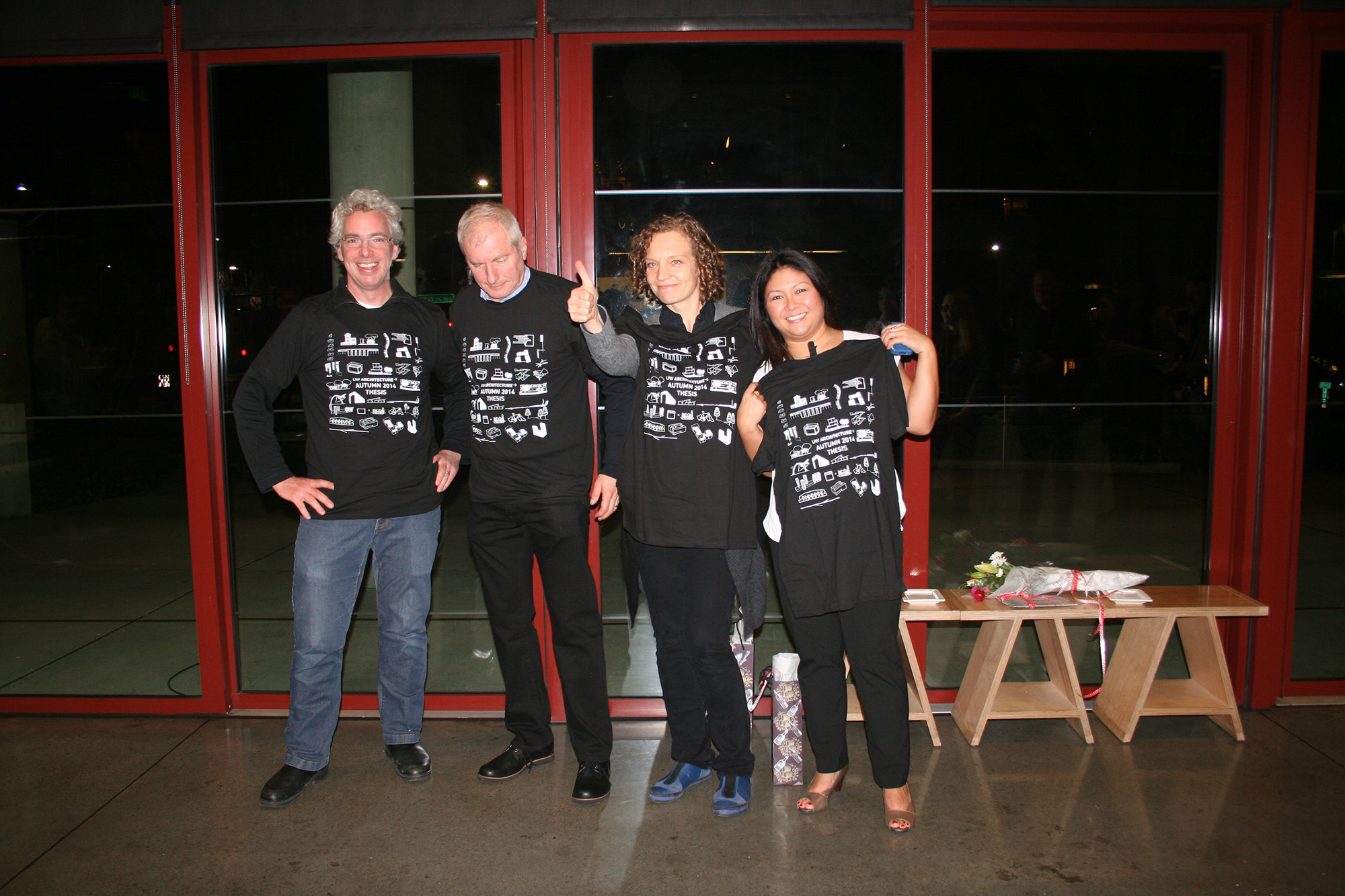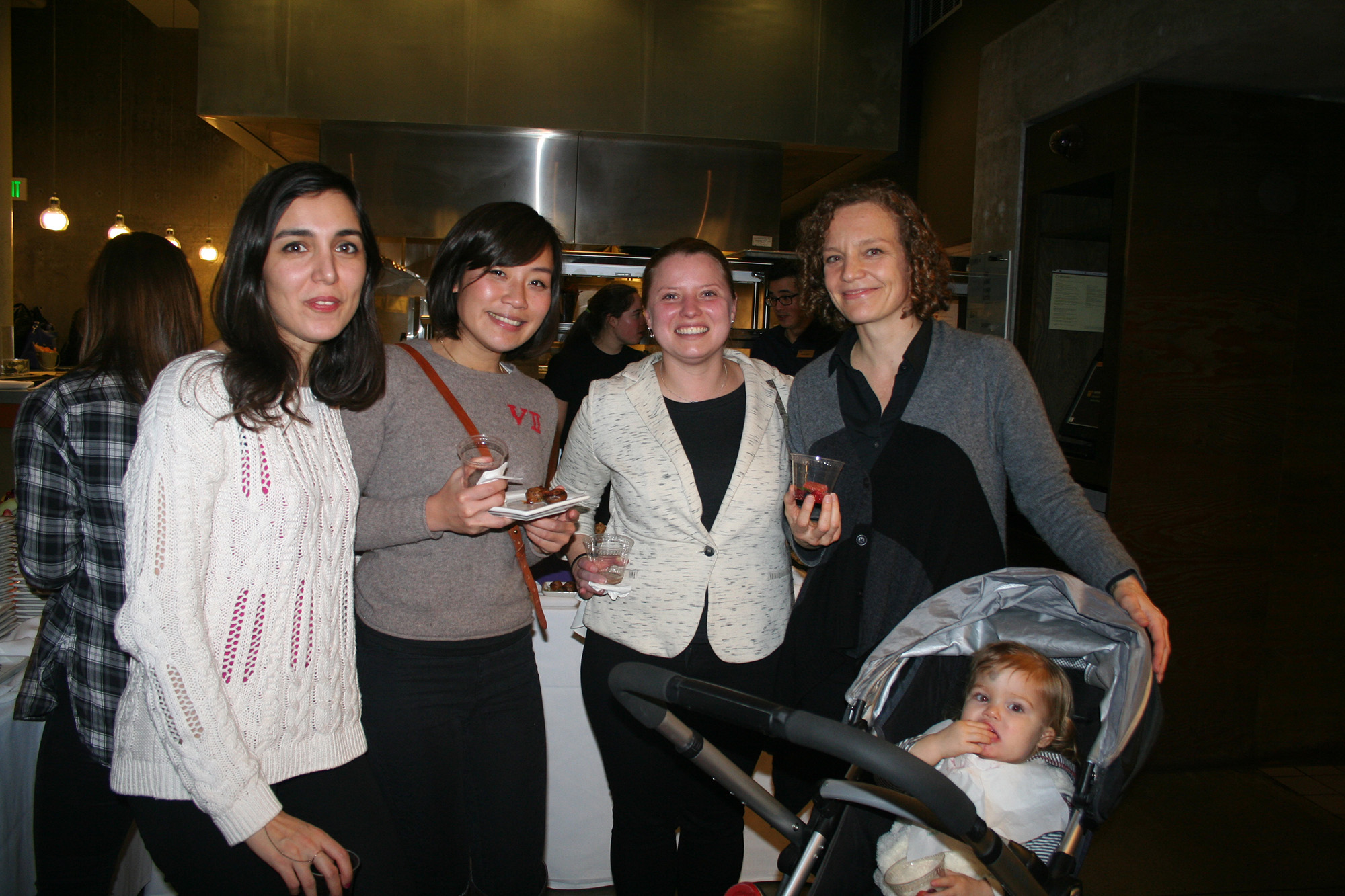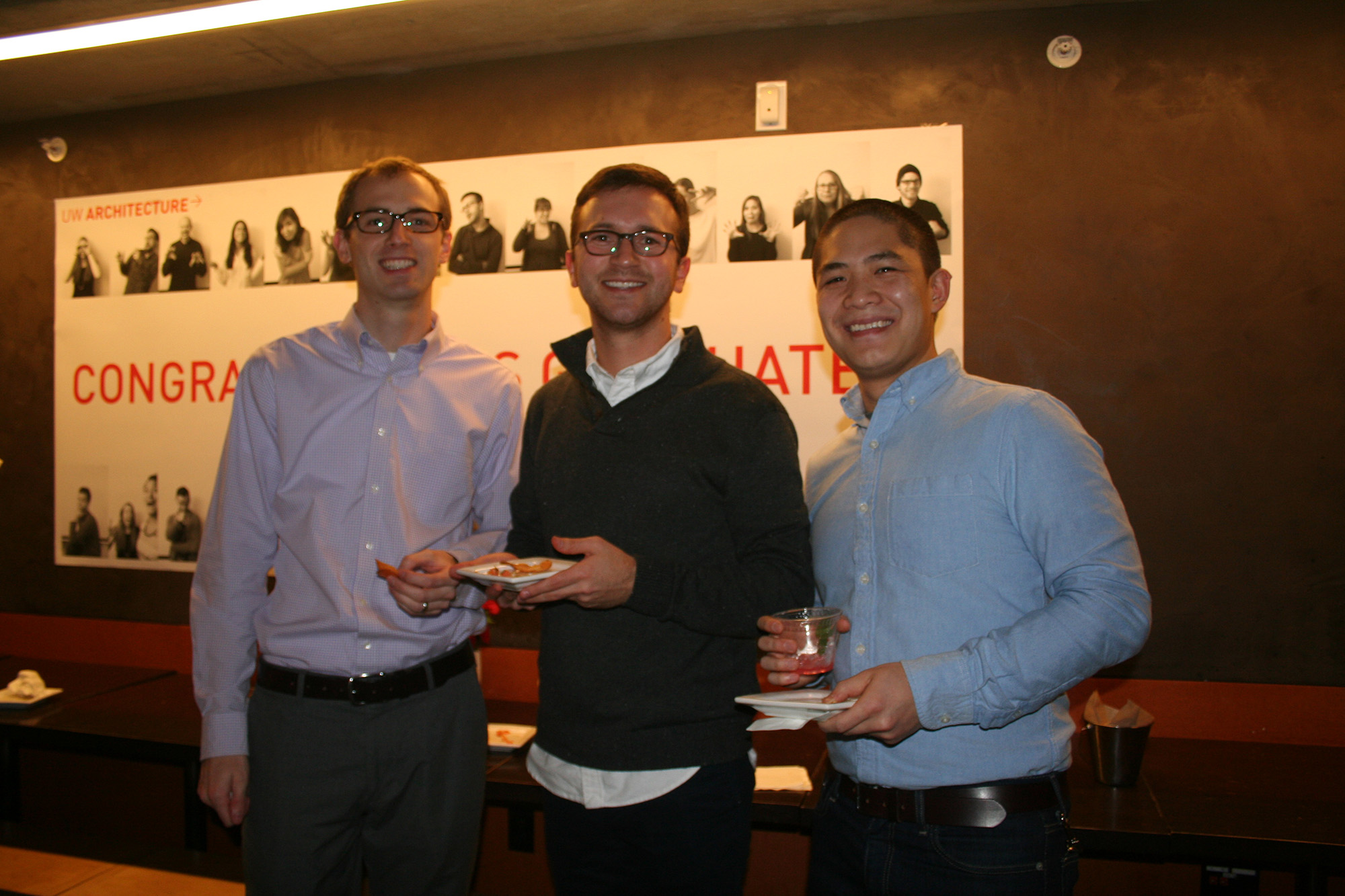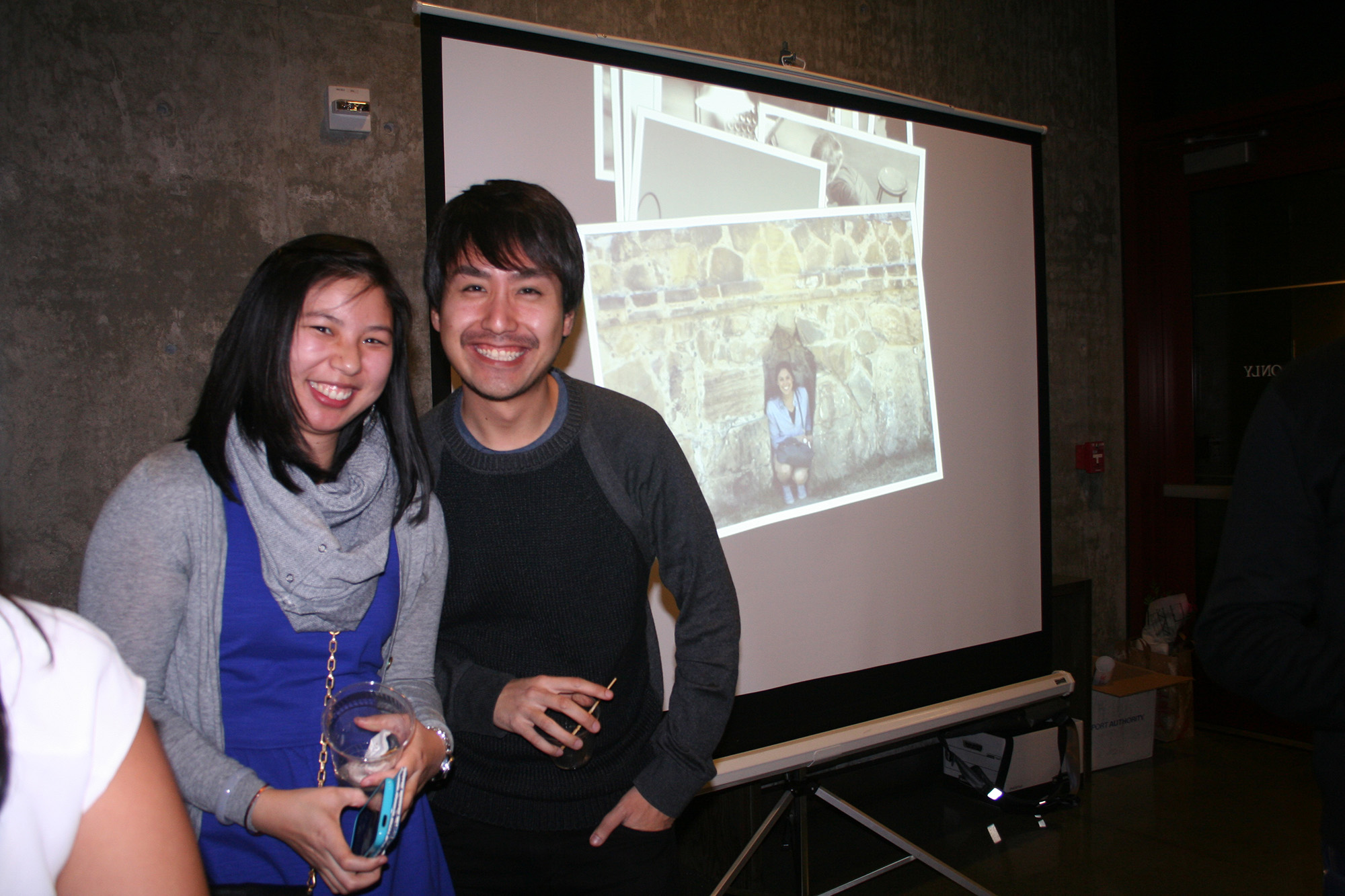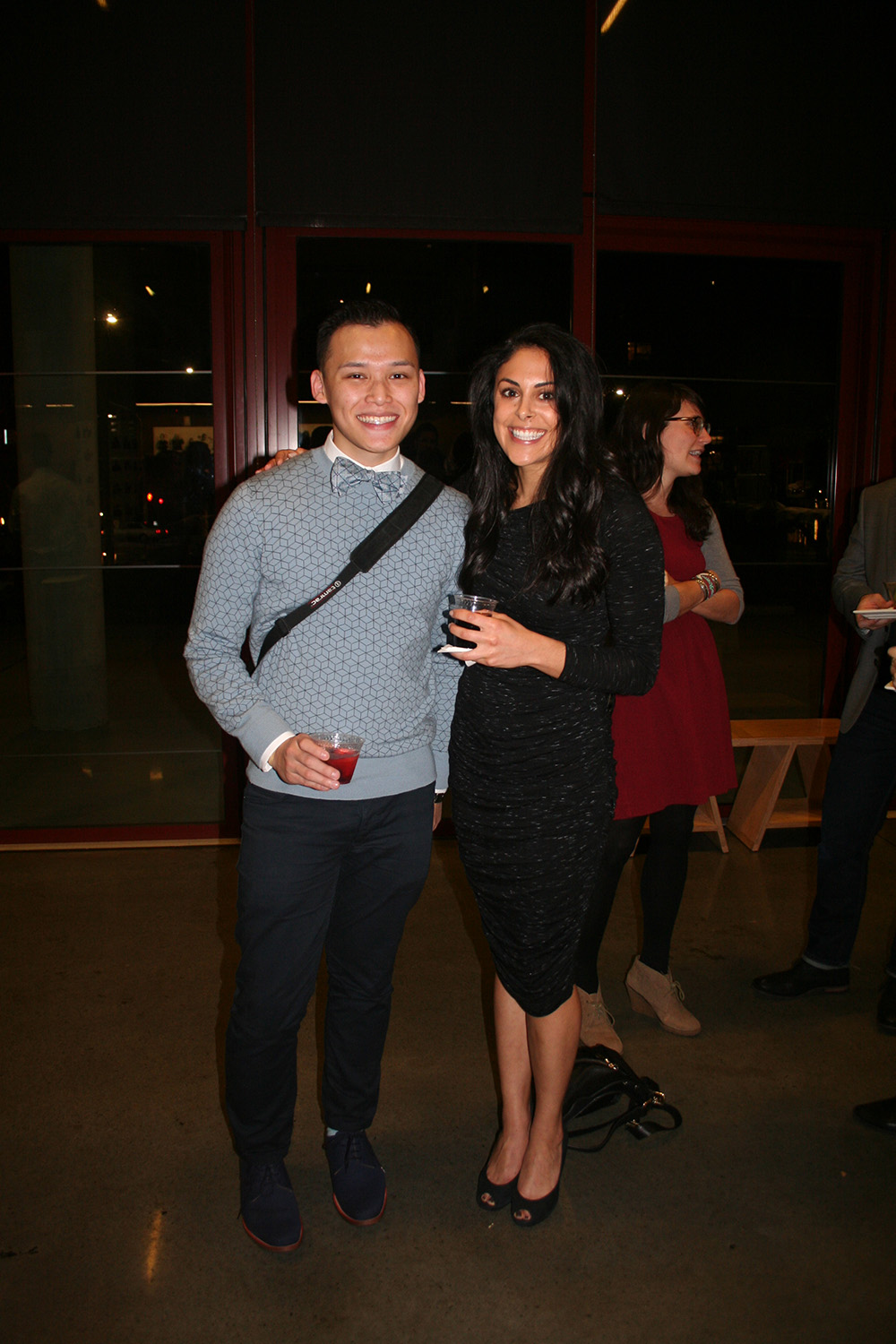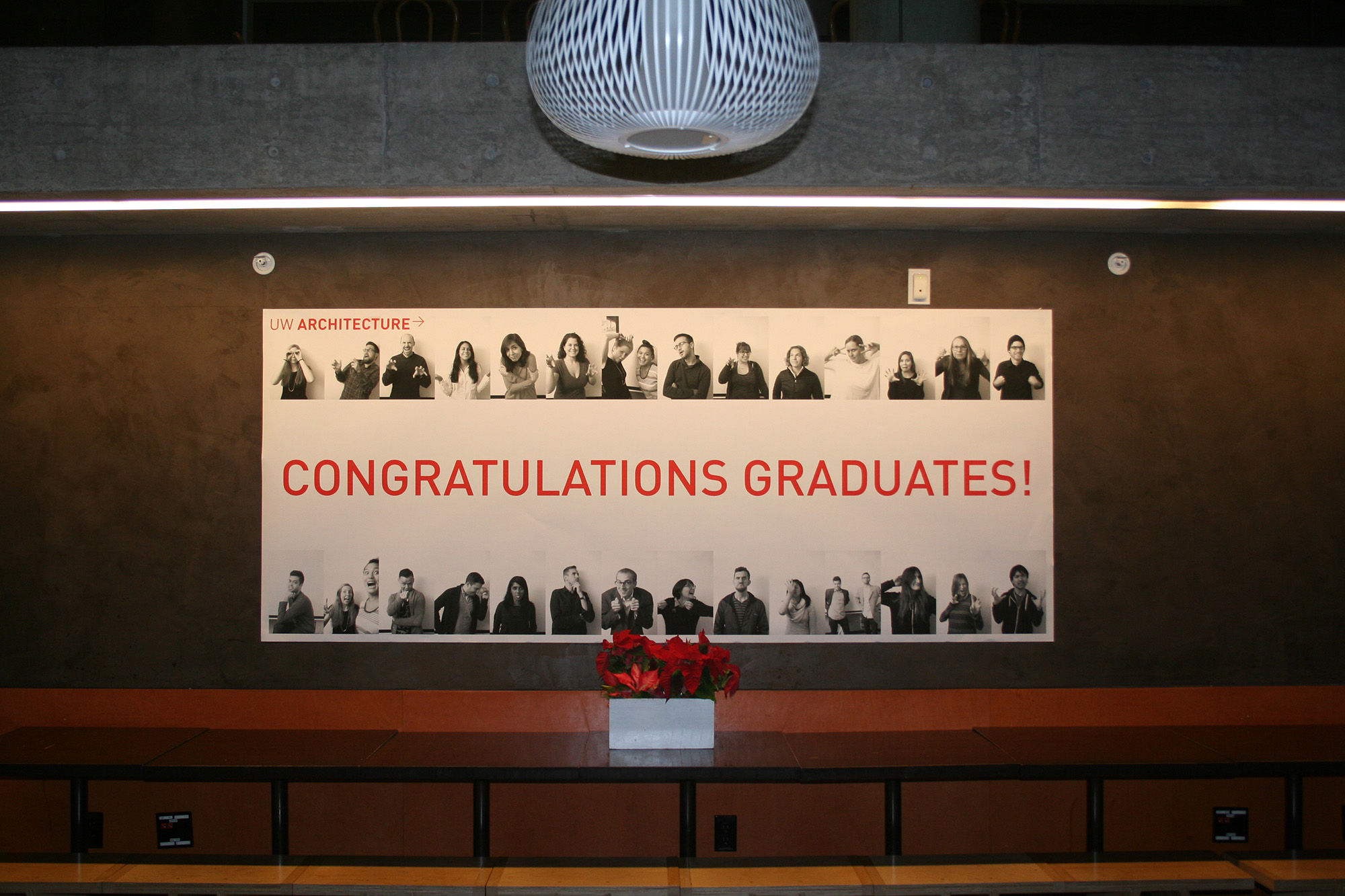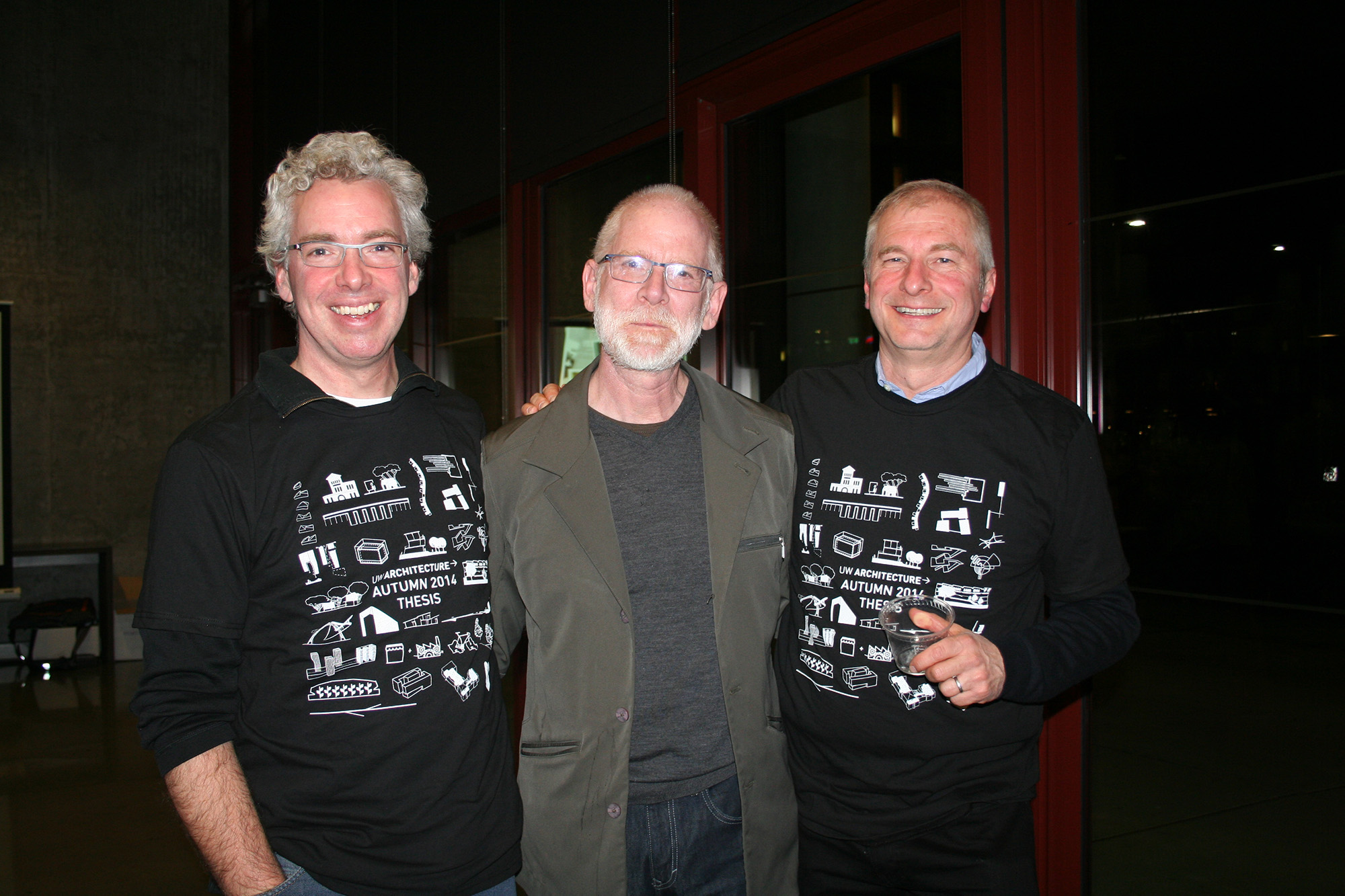 AUTUMN 2014 THESES:
Amelia Simoncelli – Digital Mass: A Transparent E-Waste Infrastructure for Seattle
Bennett Sapin – Landscapes of Fulfillment: Re-examining Infrastructures for E Commerce Distribution in Los Angeles
Claire Showalter – (RE)Generation: An Institute for Making in Southeastern Ohio's Postindustrial Vacancies
Dhara Goradia – Live-Work/Live-Learn/Live-Play: An Urban Village for Musicians across Generations
Erica Brissenden – Shift: Experiential Public Space at the Periphery of Copenhagen
Erica Witcher – Layers of Accumulation: Reusing a Contaminated Industrial Waterfront on Rock Bay, B.C.
Hayley Buckbee – Cultivating Earthworks of the Anthropocene: A Laboratory for Land and Environmental Art in Lime, Oregon
Jason Tran – Adaptive Mixology: A Direction for Transforming Chicago's Shuttered Schools
Jeffrey Sandler – Latent Realities: Uncovering the Unseen at the Very Top of Denmark
Jordan Inman – Design for Dignity: A Supportive Housing and Learning Community for Youth and Families
Justine Loong – Pygmy Elephant Sanctuary: Creating a Mindful Link between Human and Animal Territory
Justin Schwartzhoff – In Plain Sight—a Sensory Arts School for the Blind and Sighted Communities of Atlanta
Katelyn Reef – Trail Markers: Identity and Utility along the Pacific Crest Trail
Kate McLean – New Home: Creating a New Typology for Migrant Worker Housing
Kristopher Chan – Datascapes: Revealing the Potential of Data to Design Neighborhoods for the Future
Kyle Boyd – Restorative Environments: A Campus for Traficked Youth in Chiang Rai, Thailand
Kyle Kinney – Scale Effect: Experience of Scale in Natural Landscapes: A Washington Parks Information Center on Seattle's Waterfront
Leslie Maienschein-Cline – Catalytic Parking: Creating New Possibilities in an Integrated Suburban Parking Garage
Lissa Goetz – Fabrication + Adaptation: A System for Replacing Elementary School Portable Classrooms Throughout California
Matt Kikosicki – Hybrid Infrastructures: RE:Positioning the Anacostia
Midori Fukutani – Tokyo Canal City: Reuniting Tokyo with the Kanda River
Naomi Javanifard – Cultivate LA: Converting the Los Angeles Memorial Sports Arena into an Urban Food Hub
Richard Lyman – [RE]Commissioned: A Center for Unmanned Systems in Tillamook's Iconic Airship Hangar
Ross Lambert – Shared Space: Community-Centered Development in the Suburbs
Scott Viloria – Cycle-Graphic Landscapes: Experiencing Honolulu Through Its Harrowed Bicycle Infrastructure
Shannon Carrico – The Architecture of Suspense: A Center for the Cinematic Arts in the Former Olympia Brewery
Tami Liyu Lan – Healing Spaces: An Outpatient Primary Care Neighborhood Clinic, Hybrid Health and Wellness Services in One Location, Central District
Veronica Macalinao – Cultural Exchange: A New Center for Seattle's Asian Immigrants
Yasaman Haji Esmaili – Low-tech.High-touch: DNA-Brick Assembly