January 18, 2017
Design as Protest | Seattle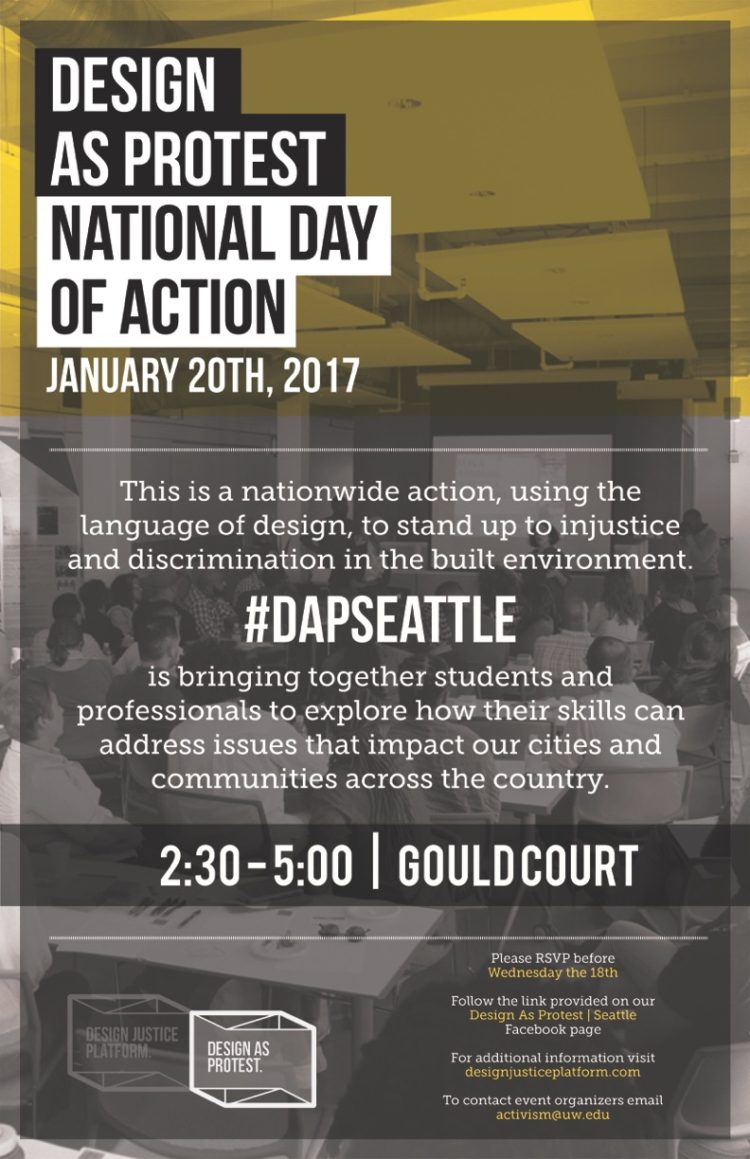 DESIGN AS PROTEST: NATIONAL DAY OF ACTION
Friday, January 20, 2017 — 2:30 to 5pm, Gould Court East
Join us on Friday, January for #DAPSeattle in Gould Hall for #DAPSeattle.
Design as Protest is a nationwide action connecting citizens, planners and designers, with the intention of utilizing their skill set to stand up to injustice and discrimination in the built environment. It engages students and professionals to use design as a means to speak out in support of the disenfranchised and marginalized communities across the country.
Students, faculty, and invited professionals will explore how knowledge and skills in construction, design, and planning can and do serve the common good and address issues ranging from education to the environment that impact the most vulnerable populations in our cities and communities.
We will join citizens and students in cities including Chicago, Cleveland, New Orleans, New York City, and San Francisco, and university campuses including University of California, Davis, University of Illinois, Urbana-Champaign, and University of Virginia in a day of reflections and collective action.
Please RSVP by Wednesday, January 18 if you are interested in attending and/or volunteering for the event.
For more information, please visit https://www.facebook.com/events/390225647983673/, or contact the local #DAPSeattle organizers at activism@uw.edu.