January 23, 2014
Furniture Studio: Bend, Mold, Clamp, and Sand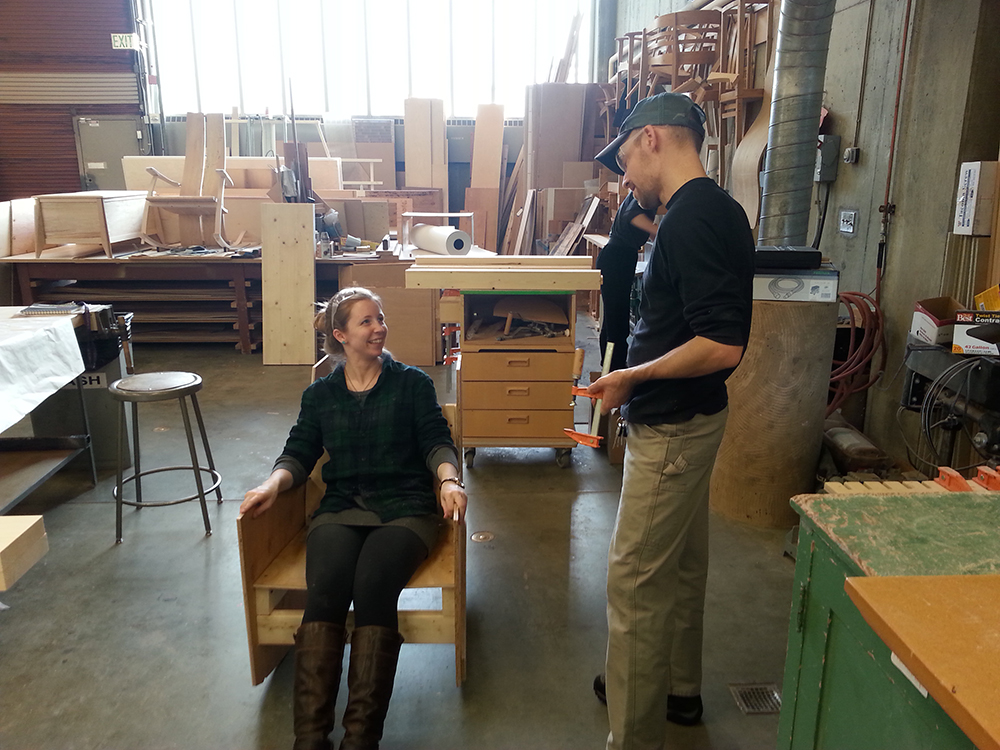 Written by Ross Lambert, M Arch 2014 Candidate
Winter Quarter means Furniture Studio at the UW for graduate students.  The first day of class began with a short lecture on the history and tradition of the studio by Professor Jeffrey Ochsner.  In 2012, Jeffrey published the book Furniture Studio chronicling the history of the program, highlighting exceptional projects, and showing the design process for the class he observed in 2009. Furniture Studio is a defining component of the UW Architecture department and unique among schools nationally. This year the Studio is co-taught by Associate Professor Kimo Griggs and Erling Christoffersen, a furniture maker from Denmark brought to us as a guest instructor by the Scan|Design Foundation.  Adding further guidance and expertise are Penny Maulden, the Fabrication Lab Director, and Steve Withycomb, a local furniture maker. On the first day of class, we were expected to show up with three design ideas to review and throughout the quarter we've had local furniture designers and makers, Ernie Pulford, Dane Jensen, and Stewart Wurtz come in and provide thoughtful critique on our pieces. We were told that over the next ten weeks, we would basically live in the shop, and at the end we'd have a fantastic piece of furniture to show for it.  It's now week three, and we're in the thick of the design process.
Furniture design began in our sketchbooks, but quickly progressed through 3"=1' scale models, full scale drawings, and into full scale mock-ups.  First, we made a comfort mock-up, experimenting with proportions, height, width, and beginning to consider materials and assembly processes.  The comfort mock-ups don't generally look like the actual design, but they are great tools to quickly and cheaply work out proportions before moving on.  The next step for us is to create a design mock-up, still made with cheap materials (2×4's, plywood, particle board), to see what the finished piece will look like, and to fine tune the design.  The great thing about Furniture Studio compared to other architecture studios is that you actually make something; you have a real, physical product at the end, and you get to experience (and struggle with) what it takes to realize the drawing.
There are twelve of us currently taking Furniture Studio.  Many of us are experimenting with laminated and molded plywood, shaping wood veneers, and bending steel. The majority of the students are making chairs, lounge chairs, rocking chairs, desks chairs, and chairs that breaks down to ship back home, a stool, a writing desk, a console table, and a liquor cabinet.  Some of us came in with no shop experience and some come in having made furniture before.  Either way, we're all learning to use new tools and to see how the process of making informs and is entwined with design.  So far, we're dreaming big and working out the kinks.  Check back in at the end of the quarter to see the finished product.
Final review is in Gould Court on Wednesday March 12th, 12pm-6pm.