May 9, 2018
Husky Green Award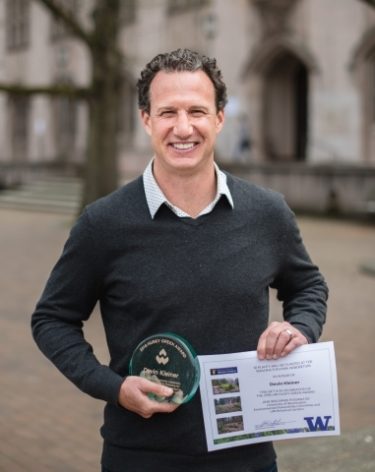 UW Architecture alumnus Devin Kleiner (M. Arch 2004) has been recognized by the University of Washington for his excellence in teaching sustainable design in receiving the Husky Green Award this year. CBE Dean John Schaufelberger was also recognized with the Husky Green Legacy Award.
Devin is a Project Architect at the Seattle offices of Perkins + Will, where he has led sustainable design efforts on a number of UW capital projects, including inclusion of Campus Sustainability Fund (CSF) student-driven efforts around rainwater and building-integrated solar electric installations. Without Devin acting as a champion on the design team, these opportunities would be lost, less integrated with the projects, or significantly diminished. These buildings and projects help transform our campus to a better model of sustainability.
Additionally, he has participated in numerous research projects developed at the UW Integrated Design Lab (UW IDL). These include the development of new design methods, identifying sites for sustainable design post-occupancy evaluation, participating in research initiatives around energy and behavior, and providing professional guidance to the lab. This work benefits the university's research mission through publications and student work, as well as the larger social mission of the UW.
Additionally, Devin and Perkins+Will have donated a significant amount of time to the teaching mission of our college, co-teaching a design studio course in the Department of Architecture alongside Associate Professor Christopher Meek. The studio has been aimed at using new computational and process methods to maximize ecological design principles in tandem with economic and experiential concerns.
Congratulations on this well-deserved award, Devin, and our sincere thanks for the work you do!