November 20, 2014
Michelangelo Today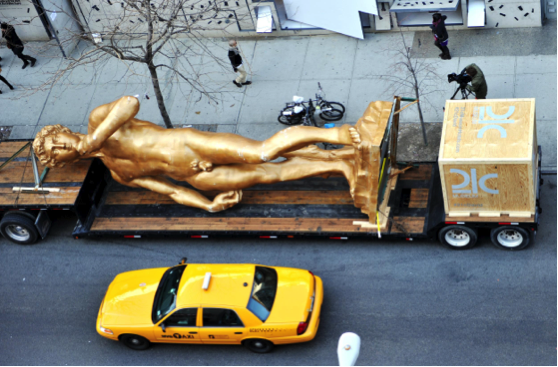 "David" was a symbol of heroism and courage but even he didn't know what the future held for him; that made him human, that made him more relatable, and that made him seem even more heroic because then he's just an ordinary man taking on an extraordinary task.
This was a student's description of the effect that resulted from Michelangelo's choice to depict the Biblical story of David and Goliath just before the action begins.  But we can read into her observation something at the core of what our Freshman Seminar is ultimately about: who knew in the sixteenth century "what the future held" for Michelangelo's David after it was installed in the Piazza della Signoria?  Who knew that he'd be lying in a flatbed truck 500 years later in a part of the world that had only recently been stumbled upon by Europeans?  While this image contains plenty of humor, the serious question we are asking concerns what 21st century eyes see when they look at the David.
One art historian has recently observed that Michelangelo's work "obliterates all other art nearby." In a recent New Yorker, Alex Ross similarly said of Beethoven, to whom Michelangelo is often compared, "his shadow falls on those who came after him, and even on those who came before him," and goes on to ask, "How did Beethoven become BEETHOVEN?"  Without trying to answer how Michelangelo became MICHELANGELO, our seminar is taking a look at each.  We are moving sequentially through his art and architecture for a glimpse of why and how it was created, and an awareness of some of the meanings shared by the artist and his audience.
But students are being asked to record in journals their own impressions and responses to various works as well.  In response to the Sistine Chapel ceiling, one student wrote:
Also what I like is the prophets on each side. It looks as if they are the ones telling the story of the creation of the world through the drunkenness of Noah. This is speculation on my part, but it looks like they are there to tell the story.
And of his paintings in general, another student wrote:
Some may argue that in this medium, the figures look unrealistic, posed, and awkward. I personally think the depiction of this scene by Michelangelo creates a very interesting conversation. While it may not have been his intention to do so, depicting this scene as statuesque makes the feeling you get from looking at it grander and farther away from reality.
These freshmen have been uniformly open and insightful as they have approached the subject of Michelangelo through his works.

We take on the topic of MICHELANGELO through popular culture.  We started the course with videos, comparing what each director made of the figure of Michelangelo himself.  We will be finishing with some of the ways in which his works are adopted, updated, transformed.  Setting aside the Ninja Turtles, where do we encounter the specter of Michelangelo today and why?