January 29, 2015
Professor Sutton's art on display downtown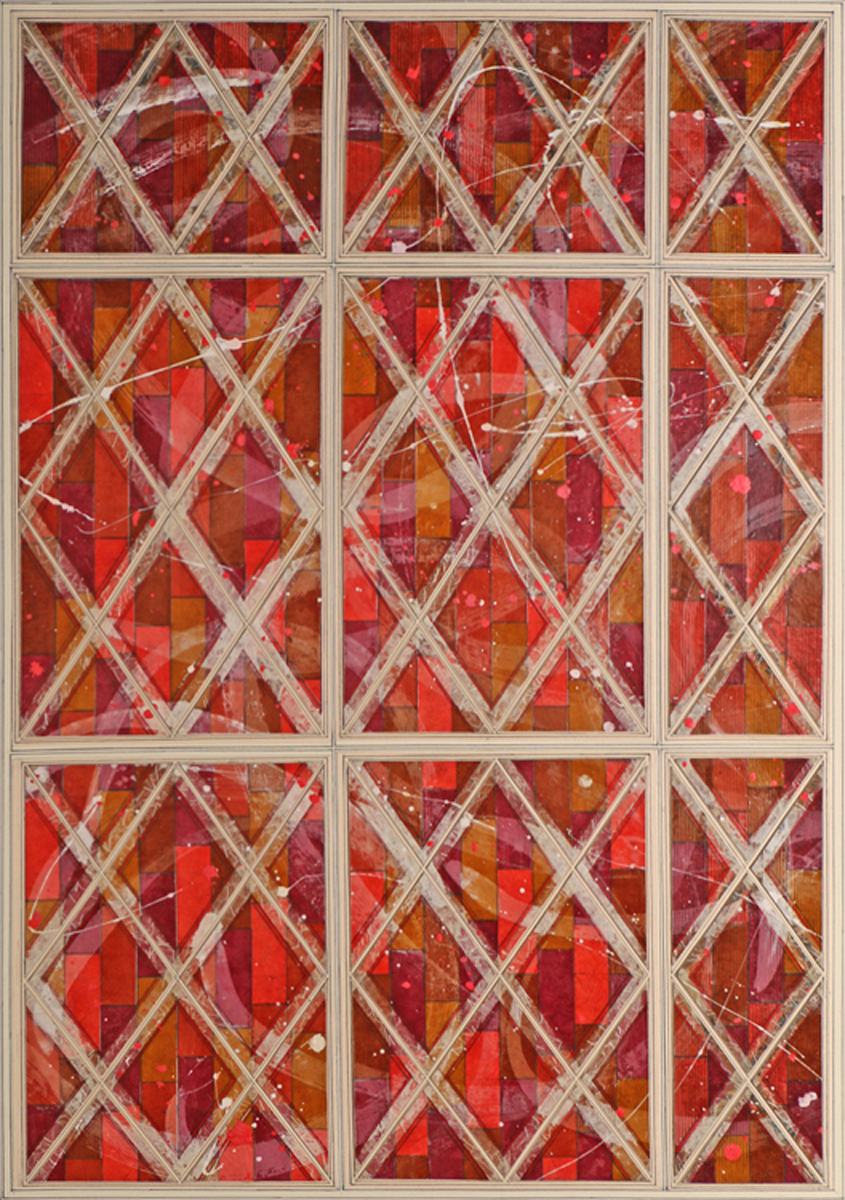 Photo credit: Josh Polansky
UW Professor of Architecture Sharon E. Sutton's art exhibition, City Life on and Off the Grid, is on display at the Ethnic Heritage Art Gallery until April 13. If you go to the show, please stop by Karen's desk in the Architecture office (208 Gould Hall) where you will find the artist's guest book awaiting your signature. Your thoughts are much appreciated.
Exhibition Dates: 14 January – 13 April 2015
Ethnic Heritage Art Gallery
Third Floor Arcade Level
Seattle Municipal Tower
700 Fifth Avenue
Seattle, WA 98104
http://www.seattle.gov/ethnicartgallery/
Gallery email: ethnicartgallery@seattle.gov
Artist email: sesut@u.washington.edu
Information from the exhibition flier:
Sharon Egretta Sutton is an artist, architect, educator, and former musician. Her art is in the Library of Congress and is exhibited in and collected by galleries and museums, business enterprises, and colleges and universities. She is professor of architecture and urban design at the University of Washington.
Orthogonal grids are ubiquitous in the cityscape. Efficient because orthogonal elements can be easily stacked, multiplied, and substituted one for the other, they can be elegant or graceless. The images in this show are explorations in the elegance of grids. They explore the tension between the rational and irrational—the expected and surprising—in city life.
All the images are collages. Like musical or architectural compositions, they are composed of many individual pieces, glued, drawn, and painted into a unified whole. Made in pairs, the process of creating these works on paper—of transforming the ordinary into the extraordinary—is their driving force.
Works Exhibited:
2014       City Life On and Off the Grid—In Summer's Slumber (A)
Lokta & Rice Paper in Collage with Pencil Drawing and Gouache
20.625" x 29.875 on Arches and American Etching Paper
2014       City Life On and Off the Grid—In Summer's Slumber (B)
Lokta &Rice Paper in Collage with Pencil Drawing and Gouache
20.625" x 29.875 on Stonehenge and American Etching Paper
2011       A Lifetime Weaving a Tapestry of Resistance (A)
Collagraphs in Collage
16.75" x 30" on American Etching Paper
2011       A Lifetime Weaving a Tapestry of Resistance (B)
Collagraphs in Collage
16.75" x 30" on American Etching Paper
2009       Crossing the Railroad Tracks—In Autumn's Heat (A)
Gouache with Pencil Drawing
17.75" x 28.5" on American Etching Paper
2009       Crossing the Railroad Tracks— In Autumn's Heat (B)
Gouache with Pencil Drawing
17.75" x 28.5" on American Etching Paper
2009       Crossing the Railroad Tracks—In Winter's Storm (A)
Gouache with Rice Paper and Pencil Drawing
17.75" x 28.5" on American Etching Paper
2009       Crossing the Railroad Tracks— In Winter's Storm (B)
Gouache with Rice Paper and Pencil Drawing
17.75" x 28.5" on American Etching Paper
2003       Maintaining Dignity in Times of Oppression (Ia)
Hand-painted Collagraphs in Collage with Pencil Drawing
17.25" x 44.5" on American Etching Paper
2003       Maintaining Dignity in Times of Oppression (Ib)
Hand-painted Collagraphs in Collage with Pencil Drawing
17.25" x 44.5" on American Etching Paper
2004       Maintaining Dignity in Times of Oppression (IIa)
Hand-painted Collagraphs in Collage with Pencil Drawing
17.25" x 44.5" on American Etching Paper
2004       Maintaining Dignity in Times of Oppression (IIb)
Hand-painted Collagraphs in Collage with Pencil Drawing
17.25" x 44.5" on American Etching Paper