October 25, 2018
Shared Structure: A Bench & Interactive Canopy
An Installation at the 2018 Seattle Design Festival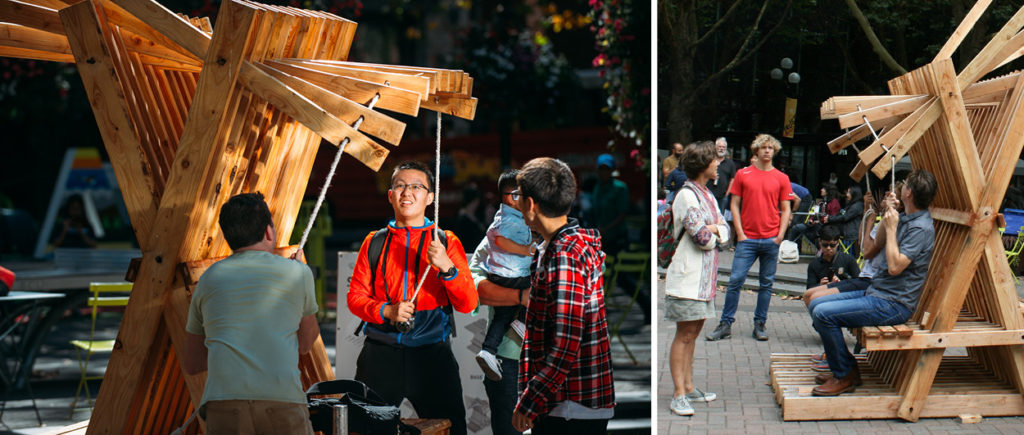 The 2018 Seattle Design Festival Block Party (September 8-9, 2018 in Occidental Park) provided a wonderful opportunity to showcase design in the Pacific Northwest – including the design talents of our MArch students.
In the Spring 2018, our structures course for first-year Masters of Architecture students developed an installation for the Block Party that brought together structural ideas with themes of public engagement.  The course emphasizes the material reality of structural forms, as well as the importance of integrating architectural and structural thinking through design.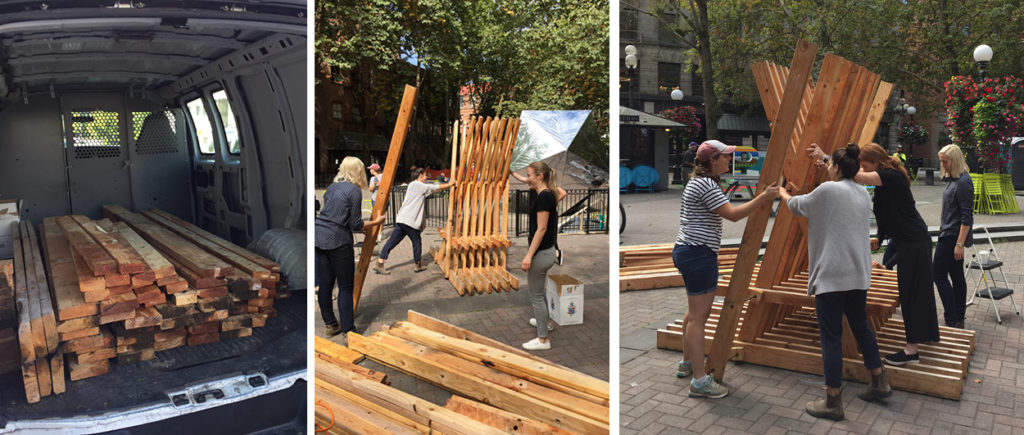 As a final project, our class collectively completed a design-build installation, intended to highlight these specific themes.  Conscious of material and energy resources that architectural constructions require, the design began from a position of limited material means and an interest in minimizing waste.  As a collaborative exercise (among 24 students and one professor), the design was also an exercise in cooperation, delegation and partnership.
Through an agreement with the North Cascades foresters, our class received a donation of (40) 2×4 and (40) 2×6 rough-sawn, undried, Douglas Fir lumber.  Delivered straight from the lumber mill, this material is a home-grown, carbon-negative material, from forest lands continuously managed for over 100 years.
The students used this material to collectively design and built a two-sided, bench + canopy. After evaluating many possibilities and approaches, the structure became a sequence of repeating sections where the thickness of the lumber provided the entire width of the structure. The 2×4 and 2×6 pieces (all 8' long) were used as alternating base, angled support, horizontal bench and sloping roof elements. The pieces were proportioned both for the human scale and to minimize off-cuts.  After pre-drilling holes, these sections were then 'threaded' on to steel bars to form a pinned yet stable structure.
Visitors were encouraged to sit on both sides of the structure, with equally-sized benches, while those one side had the opportunity to manipulating the overhead canopy.  By pulling on a rope system that hinged a flaring roof in varying degrees, visitors were able to shape the overhead condition for both sides in reciprocal ways.  An interactive structure, visitors were encouraged to change the overhead condition as they see fit – while engaging the material weight of the structure.
As the images show, the installation at the Seattle Design Festival was a success.  The bench + canopy encouraged visitors to adapt their architectural condition through a thoughtfully-assembled structural form.
-Tyler S. Sprague, Assistant Professor
Students:
Katherine Acheson-Snow | Alexander Barr | Jeannyffer Campos | Cary Chu | Princess Coleman | Michelle Culaba | Elana Darnell | Jesse Davis Mark Delpierre | Jim Ditto | Brian Dow | Jendy Edgerton | Gayle Elam | Andres Flores | Rosemarie Gregoire | Weston Hambleton | Jennifer Le | Arely Lopez-Diaz Olivier Mabiala | Kelsey Mckay | Erik Petersen | Natasha Ribeiro | Alissa Tucker | Margot Turek | Daze Wu
Many thanks to Heather Druffel (Hancock Forest Management), John Gold (Sierra Pacific Industries) and others with the WA Sustainable Forestry Initiative Committee.  Thanks also to Trevor Dykstra (with Seattle Design Festival) and the UW Department of Architecture.