August 20, 2014
Tables of Content: Summer Furniture Studio
Written by Senior Lecturer Jim Nicholls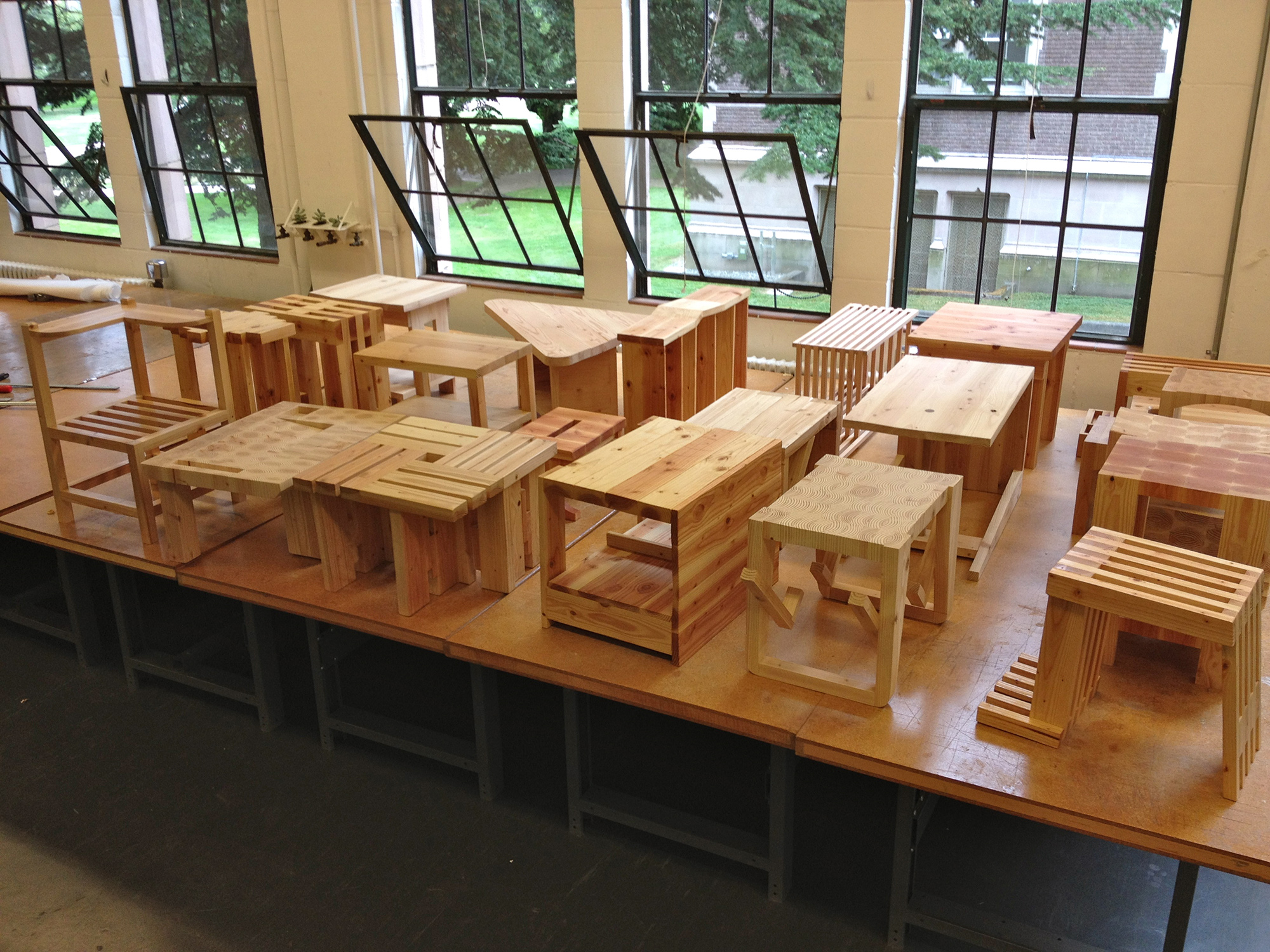 Tables Of Content is a School of Art summer furniture studio taught by Jim Nicholls and John Martin. 25 undergraduate students from across the UW campus, including students from the College of Built Environments, were introduced to the fundamentals of wood furniture fabrication and design.
The studio began with an overview of the history of furniture from 1850 to the present, outlining the critical theoretical context for the studio work. Simultaneously, students began to learn the tools and techniques of the wood shop. Entry-level woodworking skills were developed using hands-on projects with real materials and equipment, emphasizing material properties and fabrication processes. Designs moved quickly from scale model studies to full-size drawings, and into the shop for construction.
Over the summer quarter, each student produced two small tables. A quick first project, 2½ weeks in duration, was followed by a longer project for the remaining 6½ weeks. Tools were introduced incrementally as skills developed. Design brief constraints provided limits and challenges, as well a common ground to measure individual variations against. Personal choice was brought forward in the calibration and comparison of different subjective solutions.
The small wood tables were designed for DIY small-run batch production. The tables were intended to be value-added primarily by design thinking, rather than the cost of labor or the cost of materials. Each table was designed and built to be durable, sustainable, nomadic, and to include storage or seating.
Materials:
Maximum three – 8' long, Fir 2×4(s)
Criteria:
A. Design and build one table from minimum 2×4 material.
B. Clamp and glue only, no mechanical fasteners.
C. Table to Fit within the sum of am 18″ by 18″ by 18″ cube.
D. No moving parts. Whole table may rotate 90 degrees.
E. Doubles as storage, seat, or step.
FINAL REVIEW is Wednesday August 19, 2014 – ART Building Courtyard – 9:00am – 12:00pm & 1:30pm – 4:30pm
The following projects were designed and built by Allison Acosta, Nikole Barber, John Bambick, Collin Bampton, Kyle Barrett, Angela Bartlett, Hua Cao, Cory Castagno, Chao Chen, Andrew Doll, Neil Harlow, Harris Hidayat, Diana Lee, Eunjung Lee, Lok Leung, Chia-Wei Liu, Zachary Russel, Yanqing Shi, Gyumin Shim, Ellie Tanaka, Amethyst Williams, Dingying Yu, Xinzhu Zeng, and Liang Zhang.