January 30, 2018
Timber Shell Studio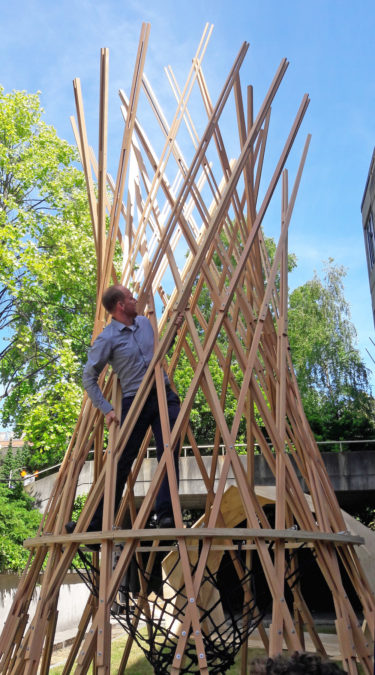 The Barry Onouye Endowed Studio at the University of Washington is intended to explore the boundary between architecture and structural engineering – with a design project that forces a conversation between the two mutually-dependent disciplines.  In Spring 2017 we were honored to be joined by John Ochsendorf of MIT as the Barry Onouye Endowed Chair.  Together with Assistant Professor Tyler Sprague, this advanced graduate studio focused on innovative explorations of structural architecture, leading to the design and construction of three small wood pavilions in the north court of Gould Hall.  Currently, in the lobby of Gould 208, an exhibit is on view featuring posters and prototypes from the different projects created.
Shell structures – as materially-efficient structures enclosing and defining architectural space – have passed in and out of favor throughout history, in different material manifestations.  Bringing the issue of shell construction into the present day, this studio proposed timber – natural wood and engineered wood products – as a potential next phase of of shell construction.  As a renewable, carbon-friendly material, timber is finding renewed appreciation as a structural material with many potential uses.  Shell construction remains one of the most material efficient, structurally-performative means to enclose large volumes.  With small material costs, the challenge of building shells becomes the precise shaping of the shell into a structurally and architecturally appropriate form, and the organization of a cost-effective construction method.
With twelve graduate architecture students, we explored timber gridshells as hybrid products of architectural and structural form.  Divided into three groups, each group showcased a different potential future for timber shell structures through the construction of scale prototypes for structural evaluation and public display.
The studio was sponsored by the Sustainable Forestry Initiative and the Department of Architecture at the University of Washington.
Three different timber shell projects were created and installed in the grass "moat" outside Gould Hall in Spring 2017.  Click here for a time-lapse video of the construction of the "Hyperboloid" grid shell project, by the student team of Mike Ennen, Matt Frantz, Ja Yeong koo, and Mardochee Thelusma.
From the team:
"Inspired by the nests within trees, the hyperboloid group explored means of creating a private, elevated space for contemplation within the larger courtyard.  Rather than expand horizontally, this group took the timber grid shell vertical – springing from a rigid, geometrically defined foundation to a more dispersed and flexible skyward form, while supporting a net-like hammock within."
Mardochee Thelusma put together a video chronicling the project's progress – check it out!