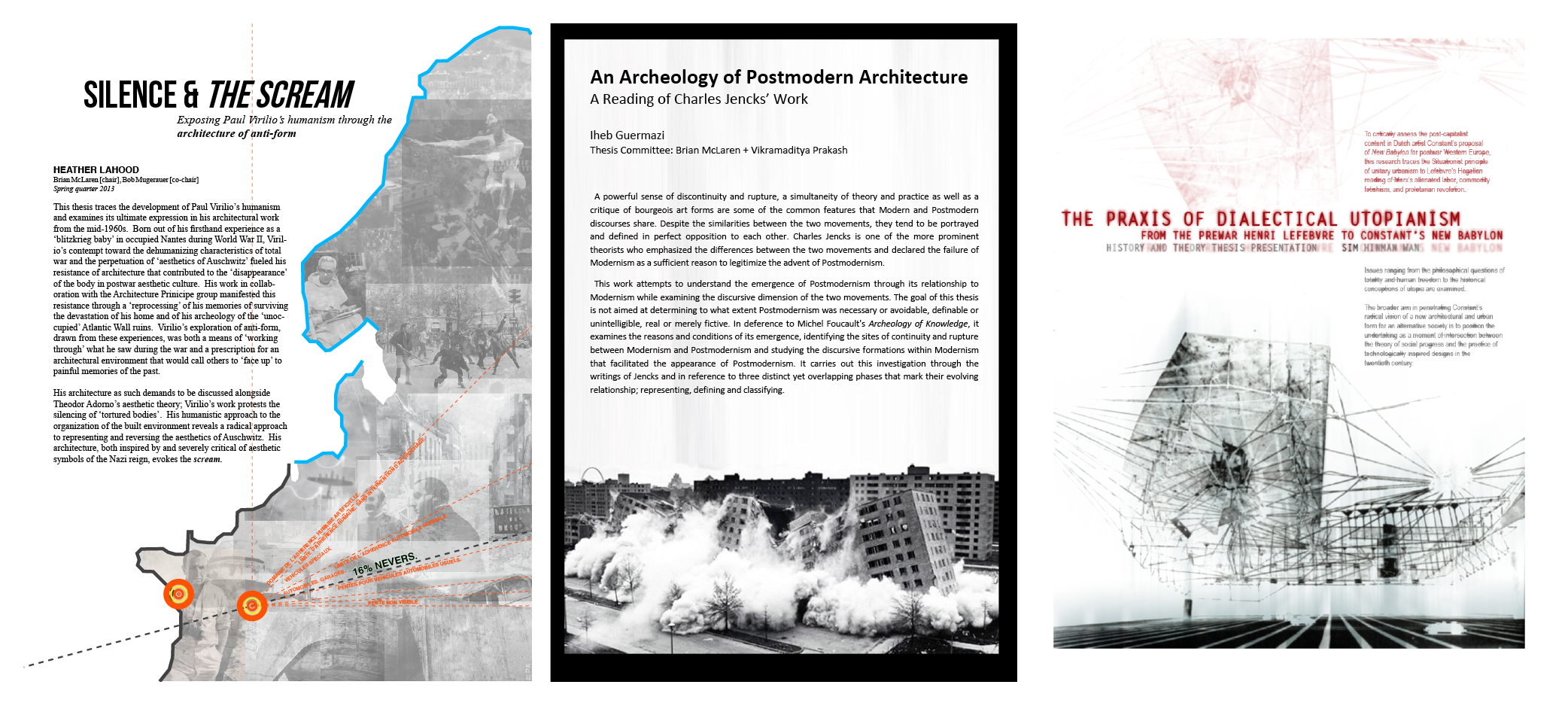 Candidates for admission to the Master of Science in Architecture / History and Theory program stream must apply to both the MS in Architecture and the Graduate School of the University of Washington.
Admission to the MS in Architecture is a competitive process. The Department of Architecture's MS Program Admissions Committee gives priority to applicants whose apparent abilities will enable them to complete the program expeditiously and with a high level of achievement. In evaluating applicants, the committee considers the following materials:
Application Deadline: February 15 for autumn quarter entry. 
February 15 deadline for autumn quarter entry. Applications will be accepted from September 15-February 15. The Admissions review process will begin after the February 15 deadline. 
Application requirements
The first step in the application process is to apply for graduate study at the University of Washington. The Graduate School application website will request the following documents:
Application for Graduate Study at the University of Washington

 (online form). Submit this together with the $85 application fee.

Departmental Program Application: Download this application PDF (the link is also provided on Graduate School Application), and save the form on your computer. Then complete the form and upload it. This form must clearly indicate the degree program for which you wish to be considered.
Transcripts: 

 Upload a PDF copy of your official transcript from each prior degree-awarding school attended.  Please ensure that the student name and school name appear and that the scan is legible. If you are scanning original transcripts, make sure the pages are oriented upright for screen viewing (vertical or landscape).

Letters of recommendation:

  Applicants will be prompted to provide the name and e-mail address of three recommenders. Recommenders will be immediately sent a link to the online evaluation form via e-mail.  A minimum of three letters of recommendation is required.  Maximum accepted is four.

GRE test is not required for 2022 admissions. Do not send GRE scores as they will not be considered in our 2022 admissions process. A decision about the GRE test for 2023 Admissions will be made in June 2022.
English Language Proficiency

 (required for applicants from countries in which the official language is not English). For more information about English Language Proficiency requirements and ways to demonstrate English proficiency, see 

UW Graduate School — Understanding the Application Process

 and 

UW Graduate School Memo 8

.

 
If you will demonstrate proficiency through the TOEFL or IELTS test, these are the minimum required scores for admission. Official scores must be received by the application deadline.
TOEFL iBT: 92. Report official scores to the UW Institution Code: 4854.

IELTS:  7.0  Follow reporting instructions provided on UW Graduate School Memo 8 
For 2022 Admissions, the UW Graduate School is extending the temporary acceptance of official test scores for both the Duolingo English Test and the TOEFL ITP Plus For China. 
TOEFL ITP Plus for China (Level 1 Test): Minimum score for admission: 627 (C1). Students admitted with the TOEFL ITP Plus for China

will be required to register for English 102, 103 and 104.

Duolingo English Test: Minimum score for admission: 120. Students who earn a Duolingo English Test (DET) score of 120 or higher satisfy the English Language Proficiency requirement, and are not required to take the AEP Placement Exam.

See 

UW Grad School COVID-19 Admissions FAQs

 for score reporting details and requirements. 
Statement of Purpose.

 This statement should clearly articulate your goals and the extent to which the MS in Architecture program can be expected to prepare you for those objectives. The statement should also describe your background and experience in architecture or an allied discipline (or related experience appropriate to the program), as well as preparation for advanced work in the history and theory of architecture. This statement must also include a proposed research focus.

Writing sample:

  We request that you provide a sample of your research work electronically. This writing sample should include evidence of your preparation for study in the history and theory of architecture. This material must include a 10-15 page written document, which is usually a research paper done in an academic context. The submission should be no longer than 20 pages in length.
Questions about the application process and general questions about the MS Arch / History and Theory stream should be addressed to Graduate Program Adviser, Claudine Manio.
Detailed questions may be addressed to the Program Director, Professor Ken Oshima.
Checking your application status
After submission of the online application, you can check the Application Status page to view when letters of recommendation and test scores have been received electronically, and when the writing sample has been received by mail.
Decisions will be mailed to applicants no later than April 15.