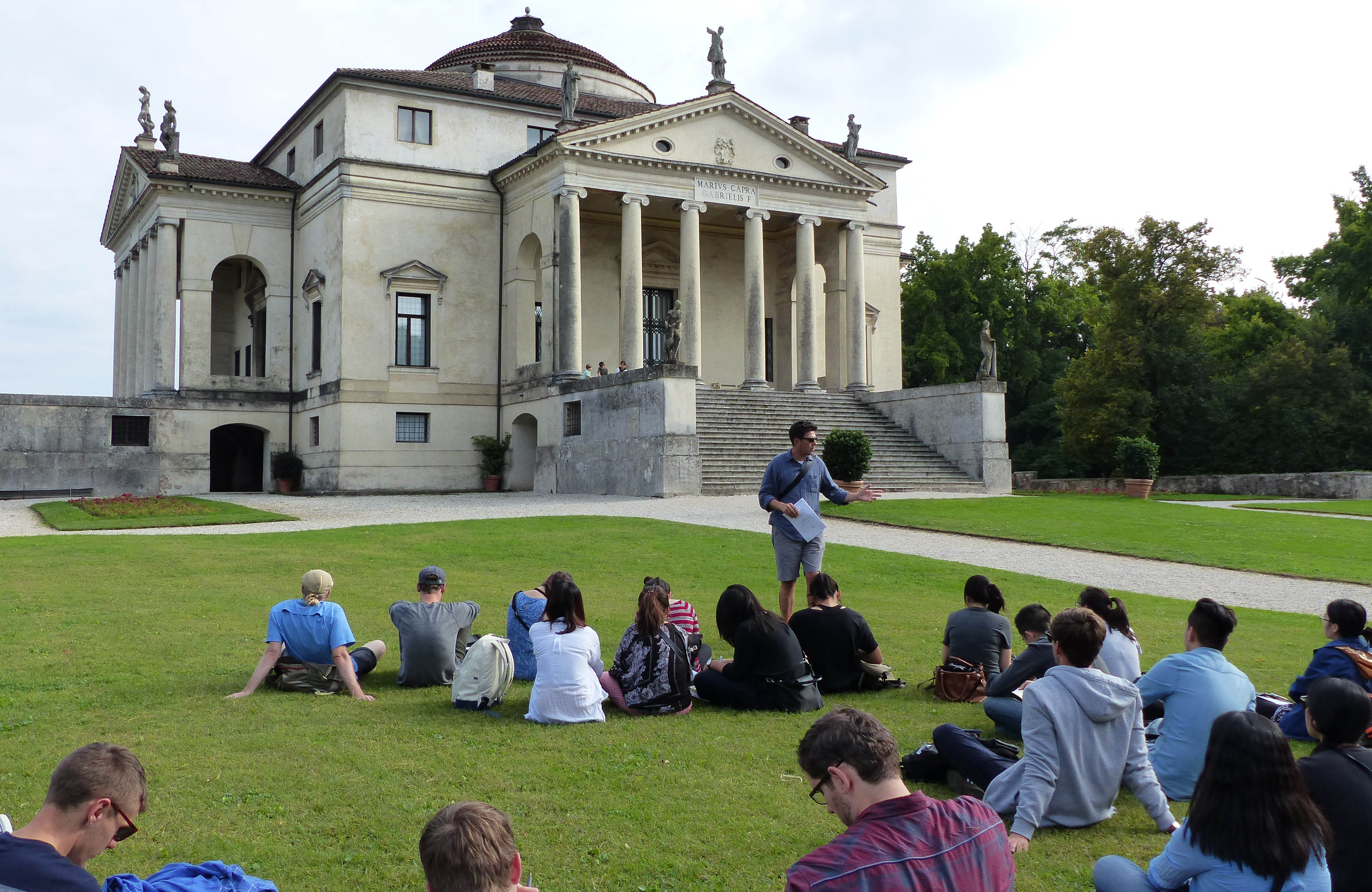 The Department of Architecture offers an array of foreign study options in locations such as Australia, Japan, Mexico City, Rome and Scandinavia. Programs range in length from quarter long to short term study during university breaks and may be faculty led or based on an individual student exchange. International programs offer students an opportunity to directly experience architecture, urbanism, and other cultures gaining exposure to local-global and historical as well as the contemporary aspects of architecture.
UW students can also find additional foreign study options at the UW Study Abroad Office in 459 Schmitz Hall.

The Murcutt|AUSTRALIA Studio is an undergraduate/graduate studio open to all architecture students who will be entering Arch 402, Arch 502 or Arch 504 in spring quarter. Glenn Murcutt and a UW faculty member co-teach the studio. A trip to Australia will comprise the first 2 1/2 weeks of the course. The studio convenes in Sydney. The first two days involve travel with Glenn to visit a number of his projects, including the Boyd Center and the Simpson-Lee House, returning to Sydney in the evenings. The Murcutt farm (the Marie Short House) near Crescent Head, New South Wales, is where the studio will engage in an intensive two-week design charrette.
The charrette will be divided into two five-day sessions, using the Murcutt guest house as the studio. Living on the Murcutt farm will allow students to develop a sensitive understanding of site/building relationships and how the geology, geomorphology, topography, ecology, climate and history of a site can have a critical impact upon design decisions. Preparing food, cooking and sharing communal meals will provide the occasion for conversations with Glenn during the evening. A weekend interval for visits to the Wilson River Primitive Reserve and to the coastal beaches near Crescent Head will allow students to experience the rich variety of Australia's ecozones and ecotones. The Australia portion of the studio will conclude with a final review at the farm before the drive back to Sydney on the following day.
Upon returning to Seattle, the studio will continue to refine the projects they conceived in Australia. Large-scale models and further site development will allow the students to refine their design explorations. The final two weeks of the quarter will be devoted to the production of a permanent record of the studio, including a mounted exhibition of the work and a printed document.
This Spring Quarter program is typically offered every other year under the guidance of Professor Ken Tadashi Oshima. Students travel during Spring Break to Japan exploring both traditional and modern architecture visiting cities such as Tokyo, Sendai, Nara, Kyoto and Kanazawa. Studio coursework is completed back in Seattle during the Spring Quarter. Past offerings include:
Metabolic Urbanism: Tokyo to Seattle (2017)
JAPAN at the Crossroads of Time & Space (2015)
Metabolic Urbanism on the Pacific Rim (2013)
Cultural Crossroads: Constructing a Japanese Cultural Center of Washington (2009)

The UW Department of Architecture offers a study program in Mexico. Students live and work in downtown Mexico City, with the studio workspace in Luis Barragan's studio located within the Museo Casa Barragan. The program of study has addressed the geography, history, urban design, housing, and architecture of Mexico. Site tours have been diverse to cover the broad historical, cultural, and economical range that constitutes the metropolis of Mexico City, and included excursions outside of the city as well as office visits to numerous architectural firms. Local architects Javier Sanchez, Mauricio Rocha, Gabriela Carrillo, Felix Sanchez, Diego Ricalde, Francisco Pardo, Paloma Vera, Victor Alcerrica, Laura Jenka, and Tatiana Bilbao have served as studio critics and assisted in leading site visits.

The Architecture in Rome program, offered in Autumn Quarter is based in the Palazzo Pio at the UW Rome Center. Students experience in depth the richness of Rome's architecture and urban design. The AIR program is open to undergraduate and graduate students in architecture and related disciplines. Classroom lecture/discussion sessions address the many facets of the cultural development of Rome and Italy, including geography, history, urban design and architecture. Courses in history of Italian architecture, architectural graphics, architectural design as well as in Italian language are integral to the program.

Valle Scholarship Program
The Valle Scholarship & Scandinavian Exchange Program supports the exchange of graduate students between the University of Washington and institutions and organizations in the Nordic countries and Baltic states for periods of 3 to 6 months. This exchange enriches students' educational experience through international perspective and experience in the fields of civil and environmental engineering, architecture, landscape design, urban planning, and construction management. The program is unique in that students are fully funded and receive a monthly stipend, tuition and travel to and from their destination.
Exchange Program in Denmark: Aarhus School of Architecture
The UW Department of Architecture has an exchange agreement with the Aarhus School of Architecture in Aarhus, Denmark. Undergraduate and graduate students can apply to attend Aarhus School of Architecture for one or two semesters. US citizens who apply for this exchange are also eligible to apply for funding via the Scan|Design Fellowship.
Scan Design Foundation Studios
Scan Design Foundation Master Urban Design and Landscape Studio + TravelThis travel study program for graduate students begins each September with a tour of Copenhagen and the Øresund region. Students gain first-hand knowledge of the methods of Gehl Architects and study the public spaces advanced by the firm, in addition to other examples of sustainable planning and design in the region. They then apply this knowledge in an interdisciplinary master studio, in which landscape architecture, urban design, and architecture students develop design ideas for a Seattle-based project. A master teacher from a Danish urban design firm will participate in the studio.
Scan Design Foundation Master Architecture Studio + TravelEach year, the Department of Architecture invites a distinguished practitioner/teacher from Denmark to teach a master design studio here in Seattle. The Scan|Design Foundation provides funding to help cover the costs of a trip to Copenhagen before Autumn term to meet the year's visiting professor, to visit her/his office, and to see some of the firm's work. Applications to apply for this studio and its travel component are available to architecture students in late winter/early spring quarter.
Scan Design Foundation Master Furniture Studio + TravelThe Department of Architecture welcomes a distinguished practitioner/teacher from Denmark to teach a master furniture studio here at the UW during the spring term of every year. The College has received funding to help cover the costs of a student/faculty trip to Copenhagen in conjunction with the studio to explore the history of Danish Furniture design and meet with the distinguished practitioner.
Scan Design Foundation Architecture Internship ProgramWith funding from the Scan|Design Foundation, the Architecture Internship Program has established six-month internships with three architecture firms in Copenhagen – COBE Architects, Dorte Mandrup A/S and EFFEKT Architects. Scan|Design interns will receive a standard Danish internship stipend, a supplemental living allowance and travel allowance. The Scan|Design Foundation stipulates that you must be a U.S. citizen in order to participate in the program. In order to obtain the proper visa from the Danish government you are required to be under the age of 35 at the start of the internship.
From a Cold War island between East and West, Berlin has transformed into the real and symbolic capital of German reunification and a nexus of European integration. We will engage Berlin as a stage of heterogeneous, often conflicting scenarios, a stage of the stories, strategies, and struggles of global urbanization. We will discuss the city as a site where the past is a set of histories, the present a plurality of events, and the future a multiplicity of possibilities to be addressed in meetings with city officials, professionals, artists, and urban activists. To explore their spatial implications, we will visit the past and present symbols of geopolitical projection, the airports, the governmental buildings, and World Heritage Sites of museums, the contested sites of marginalized and gentrifying neighborhoods, the experimental sites of Berlin's creative industries, informal housing, and urban gardening.
The program is organized as a course-trilogy of "stories," "strategies," and "struggles," consisting, of a seminar and a design studio, as well as independent study and guest lectures. The partnership with Humboldt University and collaborations with peers from Berlin's other universities will allow the development of "comparative urban pedagogies" (Jane M. Jacobs), a spectrum of different approaches to and methods of global urbanism.
Philippines Bamboo Workshop
In the past, bamboo was integral to the lives of Filipinos, and the plant played a significant role in the county's history and building traditions. Under colonial rule, the preference for bamboo gradually shifted to other more 'durable' materials, such as stone and masonry; this trend accelerated during the 1950s and 60s as rapid urbanization introduced large-scale development dependent on imported resources. Over the past decade, however, concerns about the environment and economic pressures have led the Filipino government and local industry to reevaluate bamboo as an important resource, and the Philippines is now one of the largest producers of bamboo in the world.
Bamboo–previously regarded as 'old' and outdated–is now considered by many to be current and progressive, offering a strong and sustainable alternative to conventional building materials. Our program will focus on bamboo's potential–not only as a building material–but also as a cultural signifier and economic catalyst for developing countries. We will study these possibilities through hands-on bamboo workshops, a community design charrette, and independent research. We will also consider the material's role in urbanization and disaster mitigation for the Philippines.
The class will convene in Manila where we will spend four days touring significant sites and visiting local architecture firms. We will then travel to the program base in Dumaguete City. Workshops and a design charrette–offered in conjunction with the Bambusa Collabo and Foundation University–will be supplemented with lectures by local architects, and excursions to nearby examples of tropical design and bamboo construction.