MS Arch Design Technology
The Master of Science in Architecture / Design Technology program provides the opportunity for architects, engineers, and other qualified individuals to pursue advance research on topics that include design computing, building performance simulation, sustainable systems and design, high-performance buildings, materials and fabrication, structural analysis, life cycle analysis, food-water-energy nexus, and other related topics.
The overarching purpose of the Master of Science degree in Architecture is to make high-quality graduate education available to individuals who already hold baccalaureate and/or professional degrees in architecture or related fields to broaden and improve their intellectual, professional, and technical capabilities. This degree has started in 2001 as the MS in Architecture stream in Design Computing, and in 2020 the program has been renamed to MS in Architecture stream in Design Technology. Computing remains as a research area for the program, but the program is now broadened to include the other technical fields in architecture in response to the changing demands of our profession. There is a specific and clear need to educate students that have increased skill and knowledge in computation and technical areas to enhance their ability to contribute to professional practice, allowing them to seek higher-level positions, pursue Ph.D. education or professional practice in specialized areas in architecture and allied disciplines.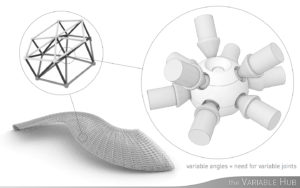 Curriculum
A minimum of 45 quarter credits will be required for the completion of the program. The program will require 36 credits of coursework and 9 credits of thesis. The program requirements will be structured to fit the individual areas of specialization; however, certain common course requirements are required of all M.S. Design Technology stream students. The core curriculum of 24 credits is comprised of a series of three classes that combine discipline-specific knowledge building with a focus on applied research skills and the thesis proposal and master's thesis. The final 21 credits of course work involve a series of design technology selectives that are determined in consultation with a faculty adviser.
Course Schedule
24 credits core curriculum courses:
ARCH 592 Research Methods, 3 credits
ARCH 586 Computation and Design Technology Seminar, 3 credits
ARCH 597 Research Practicum, 5 credits
ARCH 599 Thesis Prep, 4 credits
ARCH 700 Master's Thesis, 9 credits                                                                                                                                                                         
21 credits selectives determined in consultation with faculty adviser