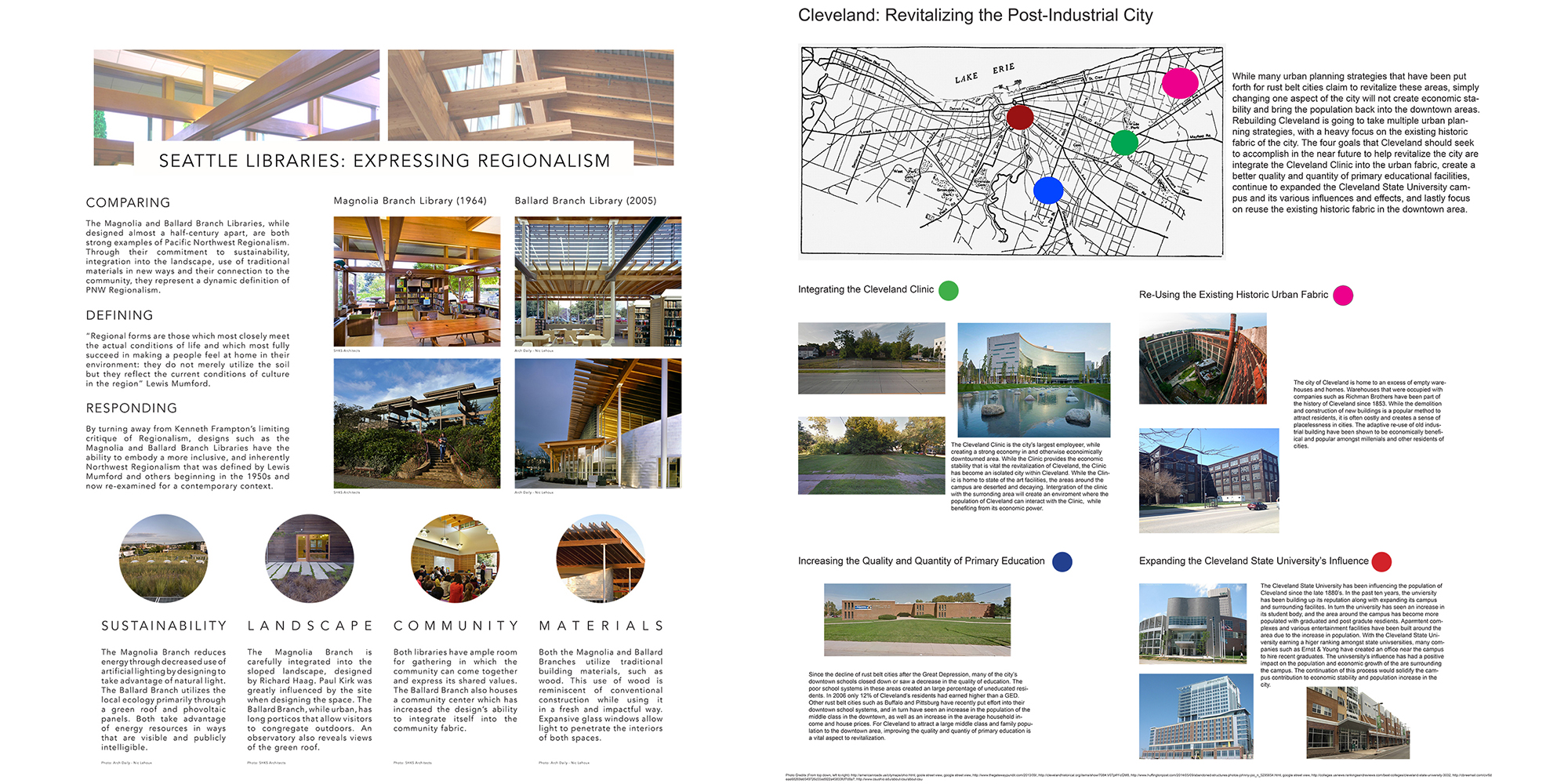 Overview
The Bachelor of Arts (BA) in Architectural Studies is a four-year, undergraduate degree program in which students explore the many factors that shape our built environment. The program provides a liberal studies approach to the study of architecture that explores socio-cultural influences, urbanism, spatial reasoning, aesthetics, political and economic structures, landscape, construction, building technologies, and ecology. The program engages students in the experience of architecture as a complex, multi-faceted discipline. It also offers the opportunity to focus their studies through a series of courses concentrating on one of three areas:
History and Theory—exploration of the cultural contexts, impacts, and legacies of architecture and the built environment.
Materials and Making—exploration of design with attention to the inherent qualities of the materials employed, and an understanding of potential processes for making objects, furniture, and architectural elements.
Sustainable Development—exploration of design and construction that is conscientious in it use of resources and technologies, and is designed to use and support natural systems and to promote social justice.
The Bachelor of Arts in Architectural Studies program offers limited freshman admission. For the majority of students, they are admitted to the program after successful completion of UW's General Education Requirements and the required Architecture courses in Years One and Two.
The five required Architecture courses in Years One and Two are:
ARCH 200: Architectural Design and Representation I (AU)
ARCH 231: Making and Craft (SP)
ARCH 350: Architecture of the Ancient World (AU)
ARCH 351: Architecture of the Medieval and Early Modern World (WI)
ARCH 352: History of Modern Architecture (SP)
These courses have open enrollment, and they must be completed by students interested in junior year admission into the program. For application guidelines and materials, see Admissions.
Students in this program will be well prepared for graduate study in the field of architectural design as well as advanced study in allied disciplines such as architectural history, historic preservation, landscape architecture, urban planning or construction management. This liberal arts degree builds skills in critical thinking, research, and writing; it also prepares students for careers in other areas of design, journalism and criticism, planning policy and law, community organizing and leadership, real estate development or work in related non-profit organizations.
All interested University of Washington students are welcome to participate in the required courses in first two years of this program. Pre-architecture majors should seek advising through the UW UAA Advising Center to ensure their prerequisite courses are being met. For more information or to speak to the undergraduate pre-major advisor please contact:
Undergraduate Academic Affairs Advising
141 Mary Gates Hall
(206) 543-2550
advice@uw.edu
Curriculum
Year One of the program is comprised of general university requirements which continue into Year Two. The second year includes required courses on the global history of architecture, a course on materials and craft, and a required design fundamentals studio course. A second design fundamentals studio is available as an elective.
Year Three consists of courses that delve deeper into history and theory, materials and processes of fabrication and construction, and sustainable approaches to design of built environments. Once in Year Four, students have increased flexibility to concentrate in areas of greatest interest. A capstone course completes the degree requirements for graduation.
Download the BA Architectural Studies curriculum template.