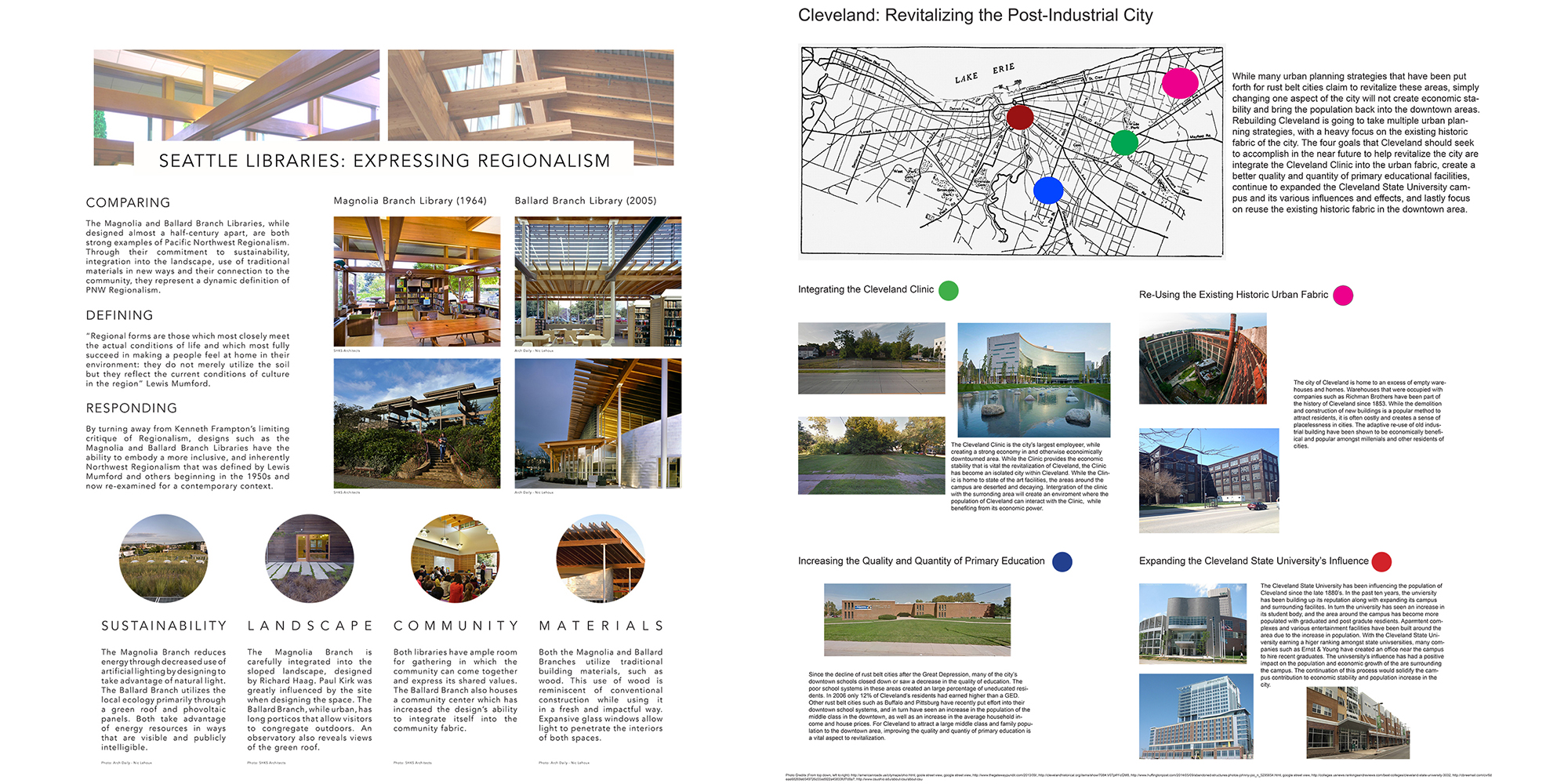 The Bachelor of Arts (BA) in Architecture / Liberal Studies is a four-year, undergraduate degree program in which students explore the many factors that shape our built environment. The program provides a liberal studies approach to the study of architecture that covers spatial reasoning, aesthetics, political and economic structures, socio-cultural influences, urbanism, landscape, construction, building technologies, and ecology. The program engages students in the experience of architecture as a complex, multi-faceted discipline. It also offers them the opportunity to focus their studies through a series of courses concentrating on one of three areas:
History and Theory
Materials and Making
Sustainable Technologies
The Bachelor of Arts in Architecture program offers limited freshman admission. For the majority of students, they are admitted to the program after successful completion of UW's General Education Requirements and the Architecture prerequisites in Years One and Two.
There are five prerequisite Architecture classes students must take for junior year admission into the program:
ARCH 200: Architectural Design and Representation I (AU)
ARCH 231: Making and Craft (SP)
ARCH 350: Architecture of the Ancient World (AU)
ARCH 351: Romanesque, Gothic, and Renaissance Architecture (WI)
ARCH 352: History of Modern Architecture (SP)
For application guidelines and materials, see Admissions.
Students in this program will be well prepared for graduate study in the field of architectural design as well as advanced study in allied disciplines such as architectural history, historic preservation, landscape architecture, urban planning or construction management. This liberal arts degree also prepares students for careers in other areas of design, journalism and criticism, planning policy and law, community leadership, real estate development or work in related non-profit organizations.
Curriculum
Year One of the program is comprised of general university requirements which continue into Year Two. The second year also includes the prerequisite classes for Year Three admission that are required classes for students also admitted as Freshman. Year Three begins with a series of courses that emphasize history and theory, materials and the making of buildings, and sustainable themes in architecture. Once in Year Four, students have the option of focusing on a custom program tailored to their interests. A senior capstone course completes the degree requirement before graduation.
Download the BA Arch / LS curriculum template.