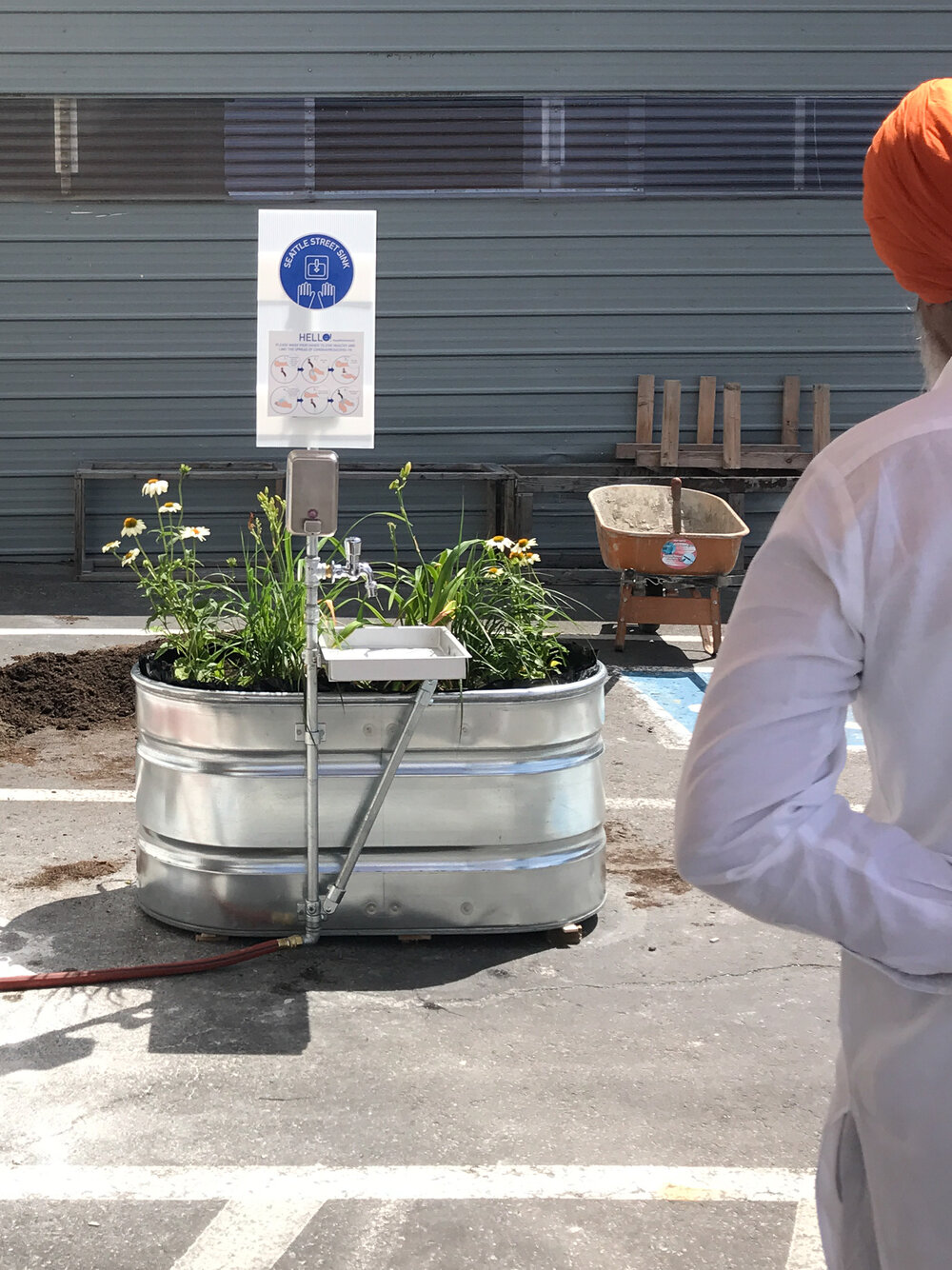 Handwashing is a proven strategy for reducing transmission of the Coronavirus. However, not everyone has access to handwashing facilities, especially when cafes and restaurants are closed due to the pandemic. This is especially true for those experiencing homelessness.
Seattle has responded by opening rest rooms in city parks and other locations and by contracting with private vendors to provide mobile handwashing stations across the city. However, these stations are subject to vandalism and are very expensive to maintain because they are closed loop systems. In other words, the water supply and the waste water need to be constantly replaced and removed respectively as the stations are not connected to either a water supply or drainage outlet.
In April, Elizabeth Golden was contacted by Tiffani McCoy of Real Change, a support organization for those experiencing homelessness, who was soliciting ideas that would both expand the number and reduce the cost of handwashing stations throughout the city. Elizabeth enlisted the help of Rick Mohler and Jeff Hou (Landscape Architecture) to develop a handwashing station that would be connected to an existing water supply thus eliminating the need for constant refilling. Brice Maryman (UW MLA '03), a Principal with MIG, was recruited to help solve the problem of managing the greywater from the sink.
The team devised a design comprised of off-the-shelf components that would connect to a hose bib on public or private property and manage the grey water onsite. The design consists of a stock utility sink with an auto shut-off faucet (so that the water cannot be left on) and soap dispenser that drains into a standard livestock watering trough filled with soil and water loving plants – a combination handwashing station and rain garden.
With an approved design and cost estimate in hand, Tiffani sought a host for the prototype design. She found one in the ROOTS young adult shelter in the U District and its Executive Director Jerred Clouse. The team then got to work specifying, procuring and assembling components, specifying and procuring plants and soil and developing instructions and informational graphics for the installation. The prototype was installed in the alley outside ROOTS between NE 42nd and 43rd Streets on May 19. The installation will be monitored, refined and replicated at sites throughout the city and beyond.
UPDATES!
December 2020: Elizabeth Golden shared the news that the Seattle Street Sink was awarded $100,000 in funding by the Seattle City Council's amendment to the Mayor's 2021 budget. This will fund the installation and maintenance of over 60 sinks to be distributed citywide. It will also fund a student to conduct a citywide analysis to determine areas of greatest need.   Congratulations to the team!
October 2020: The Seattle Stranger covered the story about the new Street Sinks popping up around town:   https://www.thestranger.com/slog/2020/10/16/47549576/that-sink-in-the-ally-is-supposed-to-be-there