Student Work
Course Description
A Studio in NW Indigenous Architecture and Culture
Nicholls/Glenn Arch 506 Autumn 2019
Daniel Glenn – Seven Directions Architecture and Planning
Jim Nicholls – UW Architecture Department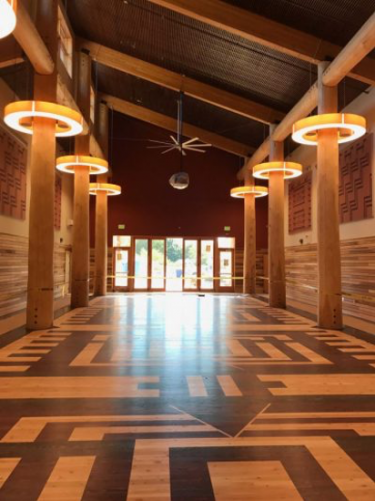 Skokomish Community Center- Seven Directions Architecture
For generations, the UW campus area was the site of Indigenous villages. Forests were cut down, shorelines altered, food sources eliminated and cultures outlawed. A Native village, an ancestral home, became University Village, an affluent shopping mall.
The University now acknowledges that it exists on unceded territory. After years of colonization, reparation and reconciliation can begin. UW Intellectual House, a Native House of Knowledge, is a step towards that, the new Burke Museum, a Native House of Memory, will also be an asset in sharing knowledge. This studio proposes a Native House of Living for UW campus.
To support the presence of Native Cultures and Indigenous Life on Campus, a Native student housing and gathering space will provide a lost home and support center for Native students. A resident elder program will foster multigenerational exchange.
Studio time will be spent in close consultation with Native Students and Elders to determine the ideal program and campus location.
Comprehensive and integrated sustainability strategies will be showcased; mass timber will be utilized for structure. Multiple scales of social gather spaces will be nurtured and emphasized.