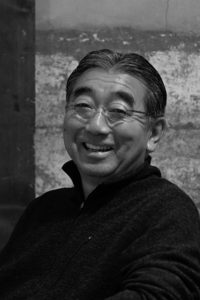 Distinguished Alumnus, 2019
B. Arch 1967
Principal
Suyama Peterson Deguchi
George Suyama, FAIA, was born and raised in Seattle, Washington and received his Architecture degree from the University of Washington in 1967. After working for Northwest Modern masters Ralph Anderson and Gene Zema, Suyama founded George Suyama Architects in 1971. The firm was renamed Suyama Peterson Deguchi in 2003. Suyama's practice has included custom residences, resorts, art galleries, performance theaters, restaurants, offices, retail spaces, and cultural/community centers. In addition, his practice has expanded to include interiors, product design and a small construction company. George loves to collect beautiful objects, from antiques and handcrafted artifacts to rocks. His appreciation of craftsmanship, simplicity and nature informs all of his designs whether they are for private residences, art galleries or theatre renovations. Suyama's work has been widely recognized and published locally, nationally and internationally. Among his most notable projects are Kemper Cabin, Mount Vernon, WA, 1992; Hornall House, Vashon Island, WA, 1993; Fauntelroy Residence, Seattle, WA, 1998; Schuchart House, Seattle, WA, 2003; and Junsei house, 2015. In 1993, he was elected to the American Institute of Architects (AIA) College of Fellows. In 2009 he was awarded the AIA's highest honor, the prestigious Medal of Honor, and in 2014 was inducted into the Residential Architect Magazine Hall of fame. Suyama has served on many artistic boards and commissions. He was the director of Suyama Space, a nonprofit gallery for site-specific installation art located within Suyama's Belltown studio that recently closed. In 2003 and 2005, Suyama Peterson Deguchi was the sole recipient of the Seattle AIA Honor Award for the Fauntleroy and Schuchart residences, cementing the firm's status as leaders in Northwest Architecture. Both projects also went on to win Honor Awards in the AIA Northwest and Pacific Region. In 2008, ORO editions published a monograph of the firm's work entitled 3×3: The Architecture of Suyama Peterson Deguchi with an epilogue written by acclaimed Japanese architect Shigeru Ban. In 2011, the University of Washington Press published Suyama: A Complex Serenity written by Grant Hildebrand, with a forward by Pritzker Prize winning architect Glenn Murcutt.