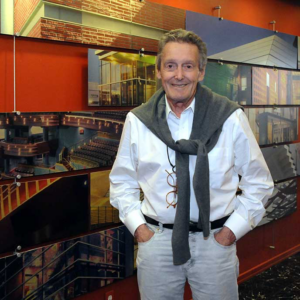 Source: Pfeiffer Partners
The Department of Architecture is saddened to learn of the passing of one its most illustrious graduates, Norman Pfeiffer, FAIA. Norman was born in Seattle in 1940. His grandfather was a construction superintendent and Norman was interested in architecture at an early age. He enrolled in the five-year program at UW in 1959 and graduated with his B.Arch. Cum Laude in 1964. During his time at UW (on weekends and during the summers), he worked for Paul Hayden Kirk & Associates (Kirk, Wallace, McKinley after 1960). He next spent a year at Columbia University, earning his M.Arch. in 1965. On graduation he joined Hugh Hardy & Associates. In 1967, he was one of the three founding partners of Hardy Holzman Pfeiffer Associates. In 1986 Pfeiffer returned to the West Coast to open the Los Angeles office of HHPA.
HHPA initially designed houses and schools, but gradually took on larger projects and became known for their innovative public buildings including museums and performing arts centers, as well as numerous renovations and adaptive reuse projects. The firm never developed a "house style," but addressed each project on its own terms within the framework of contemporary architecture.
HHPA was a nationally significant firm that received over 100 national design awards in its 37 years of existence, including the Arnold W. Brunner Prize of the National Institute of Arts and Letters in 1974 and the national AIA Firm Award in 1981. The firm and its work received frequent publication. In 1992, Rizzoli published the monograph, Hardy Holzman Pfeiffer, Buildings and Projects 1967-1992; in 1998 Rizzoli published a second volume, Hardy Holzman Pfeiffer Associates: Buildings and Projects 1993-1998.
All three partners became AIA Fellows – Norman Pfeiffer in 1981.
Around 1980, HHPA won the commission for the restoration and expansion of the Los Angeles Public Library. The firm developed an initial concept design, but before this oved forward, arson fires in 1986 and an earthquake the following year caused substantial damage. HHPA revised their designs and the project moved forward under Norman Pfeiffer to completion in 1993. The HHPA Los Angeles office under Pfeiffer's direction was made permanent.
Pfeiffer served for more than two decades on the University of Washington Architectural Commission beginning in 1989. Pfeiffer taught as a Visiting Professor of Architectural Design at UCLA beginning in 1987, and has also taught at Yale, Cincinnati and other schools.
When HHPA disbanded in 2004, Norman Pfeiffer opened Pfeiffer Partners based in Los Angeles. The firm subsequently opened a New York office. The firm has about 50 professionals in its two offices and continues to take on challenging cultural and educational projects as well as restoration and reuse. And, the firm continues to receive significant recognition, as listed here: http://pfeifferpartners.com/recognition/
Norman's son Alex is also a graduate of our program, having received his M.Arch in 2001.

For information about the firm, see:
http://pfeifferpartners.com/profile/
https://www.facebook.com/PfeifferArchitects/