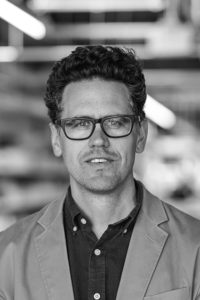 Graduate of the Last Decade, 2019
M.Arch 2009
Miller Hull Partnership 
Jake LaBarre is an architect working for the Miller Hull Partnership in Seattle. He is also a co-instructor for the University of Washington Neighborhood Design Build and a part-time lecturer, studio instructor and reviewer for the Auburn University Rural Studio. During the 2016-2017 academic year, Jake was a Visiting Assistant Professor for the Rural Studio, where as one of two professors in this internationally renowned program, he was responsible for teaching the design studio and building with the students. This work draws from his substantial experience in the profession of architecture as well as in the field of building. Jake has a Bachelor of Arts in Physics from St. Olaf College in Northfield, MN from 1995. Following his studies in the boat building section of the wood construction center at Seattle Central Community College, he worked for 8 years (1998-2004) with JAS Design Build in Seattle as a lead carpenter, cabinet maker, framer, site lead and trainer of new employees and builders. Jake graduated from our M.Arch program in 2009 and joined the Miller Hull Partnership in 2010. In 2011, he was invited to co-teach the Neighborhood Design Build by Professor Steve Badanes, a relationship that has led to a succession of 8 student designed and built projects for local community groups and non-profits. Since 2008 Jake has also taken on a number of building projects through Francis Building and Design (sole practitioner) and Blammo! (founding partner).