October 11, 2016
Storefront Studio recognized with award from King County
Last month we were thrilled to learn that on behalf of King County Executive Dow Constantine and the King County Landmarks Commission, the Storefront Studio was awarded the 2016 King County Executive's John D. Spellman Award for Exemplary Achievement in Historic Preservation.  The Studio was acknowledged for the tremendous contributions it has made to promoting economic revitalization and livability in King County.   It will be recognized in the Downtown Revitalization category.  An awards reception will be held at the Cortona Building in downtown Renton on Thursday, October 13 at 10:30am.  The event is open to the public, so please join us in celebrating this achievement!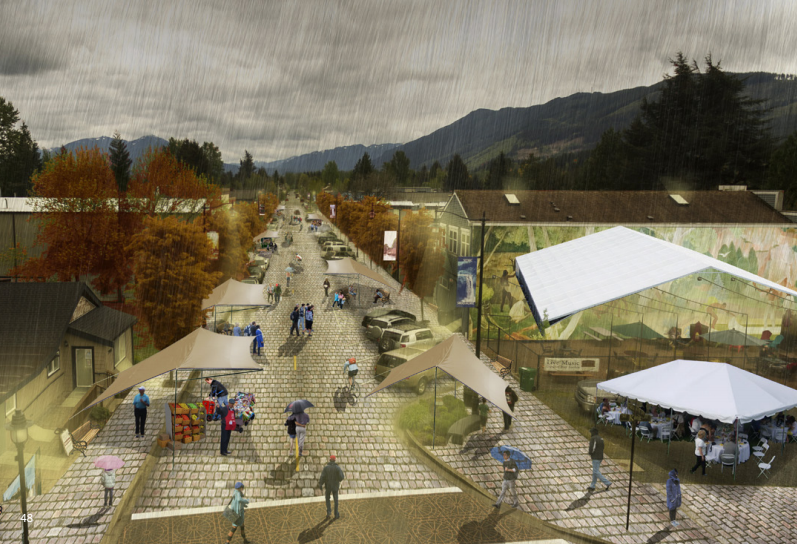 Led by Senior Lecturer Jim Nicholls, the Storefront Studio is an outreach design studio, focusing on small towns in Washington State. It is offered as an undergraduate studio, the last in the sequence of studios, or as a vertical studio combined with graduate students. The focus of the studio is an investigation into the historic Main Streets of Washington State communities.  (The above rendering is from our Spring 2016 Storefront Studio, which was a partnership between King County Historic Preservation, The City of Snoqualmie Community Development, and the UW Department of Architecture.  Through a series of community presentations and open houses, a set of enhancement strategies for the Historic Main Street area were vetted and revised, resulting in a mix of community-generated projects demonstrating resilience, inclusivity and authenticity.)
Projects include:
• Main Street historic preservation and economic revitalization
• Complete street / green street strategies,
• Public park / River walk infrastructure and community networks
Congratulations to Jim and our students on the cumulative achievements of this very successful studio!