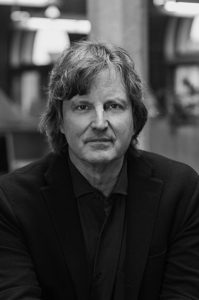 Distinguished Alumnus, 2019
B. Environmental Design 1977
M. Arch 1981
Owner, Design Principal
Olson Kundig
Tom Kundig, FAIA, RIBA is an owner and design principal of Olson Kundig, a world-renowned design firm founded on the idea that buildings can serve as a bridge between nature, culture and people. He received his Bachelor of Arts in Environmental Design from the University of Washington in 1977 graduating magna cum laude, and his Master of Architecture from the University of Washington in 1981. Following his graduation Kundig worked in Switzerland and Alaska before returning to the Pacific Northwest. Kundig's longstanding interest in the ways people interact with their environments, both built and natural, was honed throughout his extensive career designing private residences, but it is just as present in his larger scale work. His institutional buildings, art and natural history museums, hotels and commercial headquarters exhibit a keen sensitivity to scale and detail. His most notable projects include Martin's Lane Winery, Kelowna, BC, Canada, 2016; Rolling Huts, Mazama, WA, 2007; The Pierre, San Juan Islands, WA, 2010; Sawmill, Tehachapi, CA, 2014; Shinsegae International, Seoul, South Korea, 2015; and the Burke Museum of Natural History & Culture, Seattle, WA which will open to the public in fall 2019. Over the past three decades, Kundig has received some of the world's highest design honors, from a National Design Award for Architecture from the Cooper Hewitt Smithsonian Design Museum in New York to an Academy Award in Architecture from the American Academy of Arts and Letters. In 2016, Kundig was elected to the National Academy as an Academician in Architecture and in 2018 he received the AIA Seattle Medal of Honor. His work has been awarded over 60 national, regional and local AIA awards, including ten National Honor Awards, ten National Housing Awards, and a Committee on the Environment (COTE) Top Ten Award. Kundig's Shinsegae International received the World Architecture News Tall Buildings Award in 2017, and his Meg Home, Rolling Huts and Delta Shelter projects have all received Record House Awards. His work is the subject of three monographs published by Princeton Architectural Press, two of which have become the Press's best-selling architecture books of all time. His fourth monograph is slated for Winter 2019. His work has appeared in thousands of publications worldwide and on the covers of The New York Times magazine, ARCHITECT, Architectural Record, Architectural Digest and The Plan. His design teaching includes serving as the John G. Williams Distinguished Professor at the Fay Jones School of Architecture at the University of Arkansas in 2010; and the Jon Adams Jerde, FAIA Chair in Architecture & Visiting Professor at the University of Southern California School of Architecture in 2015. In 2011, he was the sole North American architect chosen to represent the continent in an exhibit at TOTO GALLERY MA in Tokyo, Japan, where he also served as a visiting design critic in Kyoto.