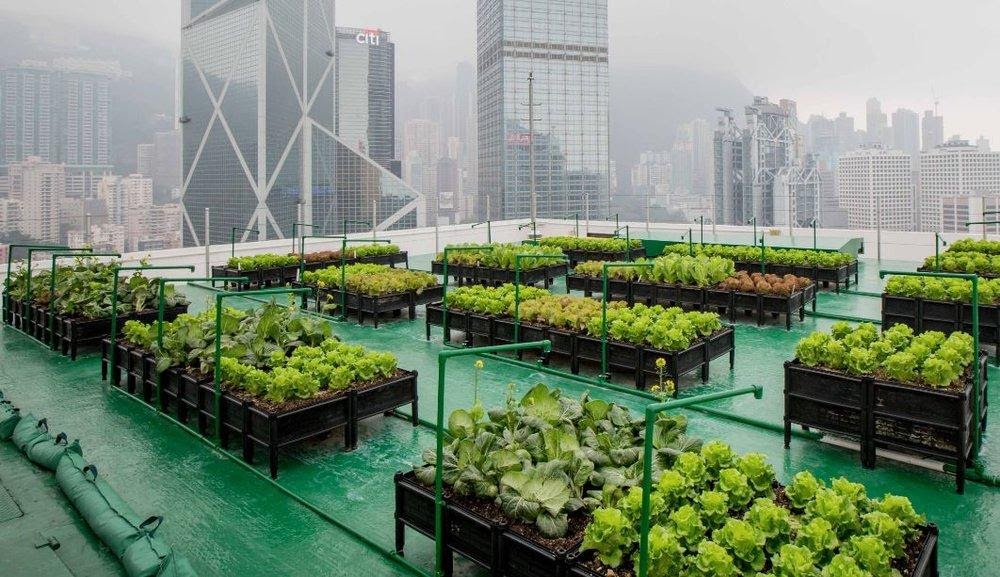 Food, Water, & Energy: Finding the Nexus in Urban Food Systems
University of Washington architecture professor Gundula Proksch launches the Circular City + Living Systems Lab
By Gundula Proksch
Updated June 18, 2020:  Read about the CCLS in TAD!
As urban populations grow globally, twenty-first-century cities must address complex challenges, including ensuring food, water, and energy security, while reducing dependence on non-renewable resources. Climate change, environmental degradation, and social inequity exacerbate these problems and have increasingly far-reaching impacts. Many of the challenges faced by our global community are interconnected, straining all sectors of the food-water-energy nexus; though they are often studied, managed, and regulated separately. The nexus framework supports an integrated interdisciplinary approach, which conceptually links multiple resource use practices and complex urban infrastructure systems to understand interrelations, potential synergies, and trade-offs. To respond to these critical challenges of today and tomorrow, we need effort and momentum from multiple disciplines reaching across the boundaries of research and practice. Built environments researchers and practitioners have to question current assumptions and develop integrated methodologies that simultaneously mitigate environmental pressures, develop alternative economic strategies, expand sustainable food systems, and support social equity.
To solve current sustainability challenges, we need interdisciplinary collaborations that work across scales, boundaries, and sectors towards systems integration.
In response to these challenges, Associate Professor of Architecture Gundula Proksch is excited to launch the Circular City + Living Systems Lab (CCLS), a new interdisciplinary University of Washington based organized research unit within the College of Built Environments. The lab investigates transformative strategies for future cities, bringing together the principles of the circular city – to keep resources in use, eliminate waste, and support the regeneration of natural ecosystems– as well as the still underutilized potential of the living systems in cities – such as green infrastructures, organic waste management, and urban food production. Together, these two lenses offer a holistic approach to systems integration at multiple scales.
"Urban agriculture offers a more sustainable alternative to untenable anthropogenic activities and current industrial agricultural practices, including the use of synthetic fertilizers, overuse of fresh water resources, and combustion of fossil fuels, which harm the environment by accelerating the disturbance of global biogeochemical cycles."
 [Gundula Proksch. Creating Urban Agricultural Systems: An Integrated Approach to Design]
Synthesizing expertise from architecture, landscape architecture, engineering, data science, urban planning, economy, biology, and ecology, the CCLS leverages research and design methods to investigate synergetic systems which apply circular economy principles and integrate living systems into the built environments toward sustainable urban futures. These approaches produce and circulate resources within the food-water-energy nexus and make cities more adaptive and resilient while facing climate change. 
The lab's current work focuses on project CITYFOOD, an international, interdisciplinary research project within the Sustainable Urban Growth Initiative (SUGI), co-funded by the Belmont Forum, European Union, and National Science Foundation. CITYFOOD investigates the potential of integrating and scaling up aquaponic food production systems into cities as an innovative approach to producing sustainable urban food and helping to mitigate urban environmental challenges. Aquaponic systems optimize flows of food, water, energy, and waste while minimizing resource needs. CITYFOOD connects and contextualizes this research across disciplines, engaging biologists, engineers, architects and urban planners. The project bridges theoretical academia with practice, putting both communities in active conversation with one another. This transdisciplinary approach is increasingly gaining traction as a research methodology with the means to generate effective real-world solutions. Results from the project CITYFOOD contribute to the ongoing conversation around urban agriculture, making a case for sustainable food systems in the built environment.
 "Ambitious, ongoing innovation by the design community to help address proliferating environmental challenges… cannot be just an ideal, but must become a realized priority." -"Building an Ecosystem: Integrating Rooftop Aquaponics with a Brewery to Advance the Circular Economy." 2020. In Open: Proceedings of the 108th ACSA Annual Meeting, San Diego, CA, March 12-14, 2020, Washington, DC: ACSA Press. (forthcoming) 
Students in the College of Built Environments who are interested in sustainable urban futures, integration of urban agriculture in built environments, and applying principles of circular economy to design have an opportunity to work directly on these issues by participating in Professor Proksch's courses: the seminar Arch 536 Designing with Living Systems in Winter 2020 and the Arch 508 Integrated Building Systems for a Circular Economy research studio in Spring 2020. Interested CBE Students are encouraged to participate in these collaborative course offerings or apply directly for research opportunities with the CCLS to continue their study on integrated food systems and alternative economies in the built environments.
For more information, visit the Circular City + Living Systems Lab or contact Professor Proksch at prokschg@uw.edu 
Gundula Proksch is a licensed architect, and associate professor in the Department of Architecture and founding director of the Circular City + Living Systems Lab (CCLS), an interdisciplinary research group investigating transformative strategies for sustainable urban futures. She is a leading scholar in the field of integrated urban agriculture and green infrastructure and draws on a decade of applied research. Her 2017 book Creating Urban Agricultural Systems: An Integrated Approach to Design is the first source book on how to approach urban agriculture from a systems perspective.