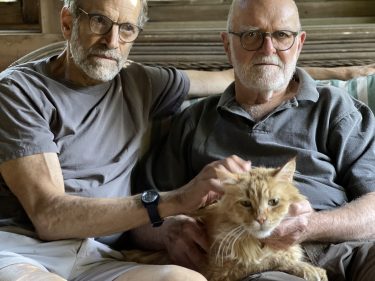 By the time Donald Currie was 11, he knew he wanted to be an architect. Now, after a career spanning more than 50 years, Donald and his husband, Daniel, want to empower a diverse new generation of students to follow their own dreams of entering architecture.
Graduating from the UW in 1963, Donald learned the fundamentals of architecture and design, acquiring the skills he would later need in his career.
After graduation, he moved on to study at Harvard University, where he had the unique opportunity to volunteer as a teacher with the Peace Corps in Nigeria. "Not only was I teaching students about architecture and town planning," he says, "but I was getting an education too."
After returning to America, Donald started his career in earnest, working for two of the nation's largest firms in the field of institutional architecture. He says that his time in Nigeria helped him work with colleagues and clients, understand diverse groups of people and help people "develop ideas that were outside their sphere of intuition."
Early in 2020, when Donald's office was closed due to COVID, he decided to retire. At that time, he started to reflect back on his career and experiences. The Black Lives Matter movement was growing, which made Donald further consider the racial inequities he knew of within architecture.
That reflection led to Donald and Daniel setting up an endowment to provide scholarships for UW architecture students who are connected to the Black Student Union or from economically disadvantaged backgrounds. Donald and Daniel also plan to leave a significant gift to the endowment at the end of their lives.
Donald's ultimate hope is that his scholarship will encourage Black students to enter the architecture field. "This is a time when racial inequities across various realms of society have become obvious," he says, citing the sobering statistic that only 2% of people in architecture are Black.
Donald and Daniel's endowment will ensure that a diverse new generation of architecture students will design our built environments, at the University of Washington and beyond.
Posted in the Henry Suzzallo Society Newsletter Edition: 2022