Barry Onouye Endowed Studio: Structure and Dance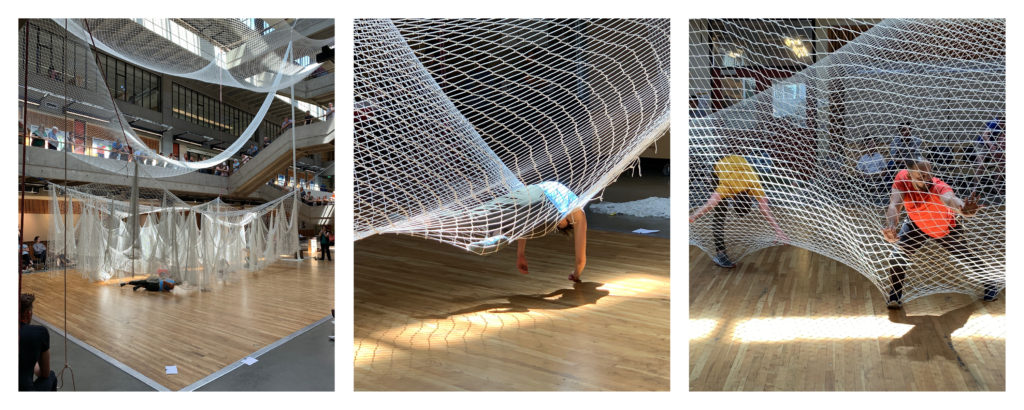 Last spring the Barry Onouye Endowed Studio explored the relationship between architecture, tensile structures, and dance. Assistant Professor Tyler Sprague and Endowed Chair Sigrid Adriaenssens from Princeton University co-taught the studio focusing on the use of nets to create a distinct space in the atrium of Gould Hall that became the environment for a performance by four professional dancers. In discussing the studio last spring Professor Sprague stated: 
"This studio has addressed not only the structural behavior of tension systems, but also the active engagement of public space through dance.  Tension structures are highly adaptable, responding to weight and force through changes in form. Previously concealed reactions are revealed in dramatic ways.  With dance partners from both the UW and Princeton (Rebecca Lazier), we are in the process of designing a large-scale installation as our final project with a culminating, professional dance performance."  
Graduate student Princess Cole worked with Professor Sprague to produce two videos showcasing the performance from last spring.
Barry Onouye Endowed Studio Spring 2019 Studio Summary
Barry Onouye Endowed Studio Spring 2019 Full Performance 
Additional images and information on the studio available here 
A blog about the studio from the perspective Professor Sigrid Adriaenssens  is available here
The Barry Onouye Endowed Studio offers students and the community exciting new ways to study the relationship between structure and the built environment. This spring the studio will focus on the possibilities of cedar construction in Japan and the United States.
Studio Description: 
The 2020 Barry Onouye Endowed Studio, with our invited chair Mitsuhiro Kanada, will explore the culture and use of a material common to both American and Japanese contexts: cedar wood. Cedar has powerful significance as part of a natural landscape, as a cultural material, as a part of communal life, and carries a long tradition of craft on both sides of the Pacific Ocean.  As such, cedar can become a language of a cross-cultural conversation linking different places across time, and contributing to our broader understanding of architecture, structure, culture, technique and material processes. The work in this studio will bring these larger themes in to the design, fabrication, treatment and connection of cedar elements into large scale structures.