2017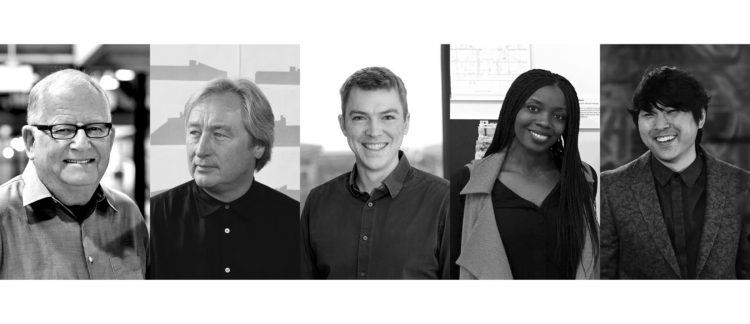 The Department of Architecture at the University of Washington held its inaugural alumni awards event on Saturday, April 1 2017. It was a special evening of celebration for the department and its alums in a vibrant and positive ambiance. The evening began with a description of the awards program and a recognition of the long history of our department through the remarkable careers of four esteemed alumni—two former faculty, Professors Emeritus Keith Kolb (BArch 1947) and Dan Streissguth (BArch 1948) and two former practitioners, Jane Hastings (BArch 1952) and David McKinley (BArch 1953).
Following a brief dinner interlude, the primary focus of the evening was on the significant accomplishments of the five awardees—our two Distinguished Alumni, Lee Copeland (BArch 1960) of Mithun Inc. in Seattle and Steven Holl (BArch 1971) of Steven Holl Architects in New York, and this year's Graduates of the Last Decade (GOLD), Scott Crawford (MArch 2008, MSArch 2010) of LMN Architects in Seattle, Mariam Kamara (MArch 2013) of atelier masomi in Niamey, Niger, and Suk Lee (BAArch 2008) of Steven Holl Architects. While the presentations were all quite moving, those of our GOLD awardees were particularly inspiring as they demonstrate the considerable promise of our recent graduates.
The event took place in the 415 Westlake space in the South Lake Union neighborhood of Seattle, with over 210 faculty, staff, alumni, friends and students in attendance. In addition to celebrating the achievements of our esteemed awardees, it was an impromptu reunion for many, with representatives from the past 70 years of our department. We are also very pleased that the festive atmosphere of the evening was supported by the many individual and firm sponsors whose contributions will directly fund the Alumni Awards Endowed Scholarship Fund. With matching funds from the Department of Architecture, that fund is presently just under $100,000.00. Over the coming years this fund will continue to grow and provide significant financial support to students in our department. For those that would like to make their own contribution, please click here.
While we look forward the spring of 2019 for the second edition of this new bi-annual celebration of our alums, we want to first acknowledge the following sponsors for their generous contributions to this year's event: DLR Group, GGLO Design, Graham Baba Architects, Hewitt, Johnston Architects, LMN, Malhum, MG2, Miller Hull, Mithun, Olson Kundig, Runberg Architecture Group, Schacht Aslani Architects, SHKS and Weinstein A+U. We are also grateful to the jury, who had the difficult task of selecting the awardees from an inspiring pool of candidates: Donald King, FAIA, Mimar Pacific; Anne Schopf, FAIA, Partner, Mahlum Architects; and Boris Srdar, FAIA, Principal, NAC Architecture. In addition, the event would not have been possible without considerable faculty, staff and student support. Thanks especially to Rick Mohler, Nancy Dragun, Jansen Bennett and Sarah Chan.